Air fryer sweet apple fritters recipe. This recipe is great for fall and perfect with a cup of coffee or tea. The fritters are healthier than traditional deep-fried doughnuts and less time-consuming. They are sure to bring some sweet happiness to your day.
How to Make Apple Fritters
Air fryers are becoming a popular way to cook food. They are a healthier alternative to deep frying because they don't use oil. It is also an easy way to make air-fried apple fritters.
If you like the taste of sweet apple fritters, then you will love this recipe for air fryer sweet apple fritters. All you need is an air fryer and some simple ingredients.
The first step is to peel and slice the apples into thin pieces that will fit into the air fryer basket.
Next, mix up your batter with milk, sugar, cinnamon, flour, eggs, and baking powder in a bowl. Then dip your apples in the batter and place them in the air fryer basket so they are not touching each other too much on top of each other.
Lastly, cover the basket with a piece of parchment paper and cook for about 8 minutes. When finished, you can remove the apples from the air fryer basket and serve them up!
Air Fryer Apple Fritters Recipe
You may also like:
Air Fryer Easy Salmon Fillets Recipe
Instant Pot Sugar-Glazed Carrots Recipe
Slow Cooker Sweet Potato and Chicken Stew
Instant Pot Coconut Flan Recipe
Slow Cooker Greek-Style Green Beans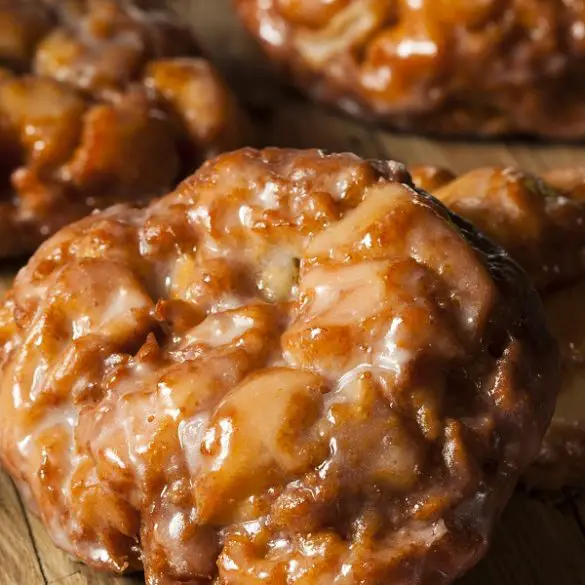 Ingredients
1 cup peeled and chopped Granny Smith apples

1/2 cup granulated sugar

1 teaspoon ground cinnamon

1 cup all-purpose flour

1 teaspoon baking powder

1 teaspoon salt

2 tablespoons milk

2 tablespoons unsalted butter, melted

1 large egg, beaten
Instructions
In a small mixing bowl, combine chopped apples, sugar, and ground cinnamon. Mix well, then set it aside and allow to sit for 30 minutes. In a medium mixing bowl, combine all-purpose flour, baking powder, and salt. Stir well, then add the milk, butter, and egg. Mix to incorporate. Pour the apple mixture into the bowl of the flour mixture and stir until a dough forms. Line the air fryer basket with parchment paper, then spray it with a nonstick cooking spray. On a clean work surface, divide the dough into 12 equal portions and shape them into balls. Flatten them into patties. Transfer the patties onto the parchment-lined air fryer basket, leaving a space between them. Spray the fritters with nonstick cooking spray. Bake at 350º F (175º C) for 7-8 minutes, or until lightly browned, flipping them halfway through the cooking time. Serve warm.