Crock pot butternut squash lentil curry recipe. Vegetables with spices cooked in a slow cooker. Easy and healthy.
This vegetarian recipe adapted from https://sweetpeasandsaffron.com/slow-cooker-butternut-squash-lentil-curry/
You may also like Instant Pot Healthy Lentil and Spinach Soup
Crock Pot Butternut Squash lentil Curry Recipe
Are you looking for easy and delicious slow cooker recipes? We have a huge collection of them, please check it out-Slow Cooker Recipes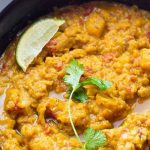 Ingredients
2 cups dried red lentils, uncooked

2 cups cubed butternut squash

1 large yellow onion, peeled and finely chopped

2 cloves garlic, peeled and minced

2 tablespoons grated ginger

1 tablespoon curry powder

2 teaspoons ground coriander

2 teaspoons garam masala

2 teaspoons ground turmeric

2 teaspoons ground cumin

1 teaspoon salt

1 can (440 ml) coconut milk

19 oz (570 ml) diced tomatoes with their juices

3 cups (750 ml) vegetable stock

freshly squeezed juice of half lime
Instructions
In a 6-quart (6 l) slow cooker, combine all ingredients, except lime juice.
Stir well.
Close the pot and cook on low-heat setting for 8 hours.
Turn off the cooker and open the lid. Sprinkle with lime juice and more salt. Stir well.
Transfer to a serving plate. Serve hot.