Instant pot easy pumpkin chili recipe. Ground beef with vegetables, beans, and spices cooked in a pressure cooker. An excellent choice for Halloween!
You may also like Pressure Cooker Eggnog Cheesecake Recipe
Instant pot Easy Pumpkin Chili Recipe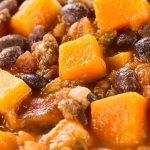 Ingredients
1 pound (408 g) ground beef or turkey

1 cup dried red beans, soaked for 6-8 hours, drained and rinsed

1 cup dried black beans, soaked for 6-8 hours, drained and rinsed

1 red jalapeño chili, finely diced

1 butternut squash pumpkin, peeled, seeded and cubed

2 tablespoons (30 ml) olive oil

1 medium red onion, peeled and finely diced

1 celery stick, chopped

1/2 teaspoon salt

5 cloves garlic, peeled and minced

2½ tablespoons tomato paste

1 vegetable stock cube

3 tablespoons (45 ml) soy sauce

2 teaspoons cumin powder

1 teaspoon smoked paprika

1 teaspoon coriander seeds powder

1 teaspoon paprika powder

1/2 teaspoon cinnamon powder

4 cups (1 L) water
Instructions
Heat the olive oil in a 6-qiart (6 L) instant pot turned to the sauté mode.
Add ground beef and cook, stirring, until browned.
Add red onion, celery, jalapeño, and salt. Continue cooking and stirring, for a further 3-4 minutes.
Stir in the remaining ingredients and mix well.
Close the pot and lock the lid. Set the machine to cook at high pressure. Set the timer to cook for 10 minutes.
Using the Natural Release method, bring pressure to normal. Carefully unlock and open the lid.
Stir the chili well before serving. Transfer to serving bowls. Serve hot.