Instant pot Indian chana masala recipe. Chana masala is a vegetarian dish that originated in eastern India. It is usually made with chickpeas and onions, tomatoes, garlic, ginger, coriander, and cumin (and sometimes red chili pepper).
Where does the name "chana masala" come from?
The word "chana" refers to the Indian dish, which is a mixture of boiled chickpeas and spices. The word "masala" refers to the mixture of spices. The dish was originally called "chana masala" by the British, who combined the words in their language to describe it.
The name chana masala has been used in India for centuries before it was introduced to Britain.
What are some other common spices that can be added to chana masale for flavor, texture and color?
There are many other spices that can be added to chana masala for flavor, texture, and color. Some of the common spices are:
– Bay leaf
– Cumin seeds
– Cilantro leaves
– Curry leaves
– Dried red chili peppers
What is the difference between Indian chana masala and other chickpea dishes?
Indian chana masala is a spicy dish that is made with chickpeas and other spices. It is usually served with rice or roti.
It is not the same as other chickpea dishes. For example, it doesn't have the same taste as hummus or falafel.
The main difference between Indian chana masala and other chickpea dishes is the heat level, which can range from mild to spicy depending on your preference.
Instant Pot Indian Chana Masala Recipe
You may also like:
Air Fryer Cashew-Stuffed Mushrooms Recipe
Slow Cooker Mexican Chili Recipe
Instant Pot Stuffed Pepper Soup Recipe
Slow Cooker Ham and Cannellini Bean Soup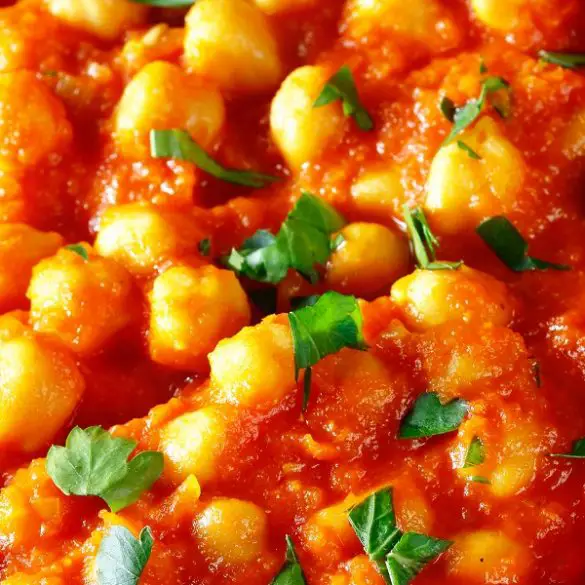 Ingredients
1 cup chickpeas, washed and soaked in 3 cups water overnight and rained

1½ cups (375 ml) water

1 tablespoon ghee butter

1 green chili pepper, seeded and chopped

5 cloves garlic, peeled and minced

1-inch (2.5 cm) ginger, grated

1½ cup diced yellow onions

3/4 cup chopped tomatoes

1 tablespoon dried fenugreek leaves

chopped fresh cilantro, for garnish

1/2 teaspoon cayenne pepper

1 teaspoon ground coriander

1 tablespoon chole masala

1 teaspoon salt

1 teaspoon dry mango powder

1 teaspoon cumin seeds

2 bay leaves

1/2 teaspoon black peppercorns

1-inch (2.5 cm) cinnamon
Instructions
Heat the ghee butter in an electric instant pot turned to saute mode. Add cumin seeds, bay leaves, black peppercorns, cinnamon, ginger, garlic, and green chili.
Cook stirring, until ginger and garlic are golden brown.  Add onions and saute, stirring occasionally, for a further 3 minutes.
Add tomatoes and remaining spices, except the dry mango powder and fenugreek.
Add chickpeas, then pour in water, and stir well.
Close the pot and lock the lid. Set the machine to cook to high pressure. Set the timer to cook for 35 minutes.
Using the Natural Release method, bring pressure to normal. Carefully unlock and open the lid.
Add dried fenugreek leaves and mango powder.
Switch to saute mode and boil for 2 minutes.
Garnish with chopped fresh cilantro.