Instant pot keto cheesecake recipe. Very popular and delicious low-carb dessert baked in an electric pressure cooker.
You may also like Keto Beef Stroganoff, another yummy keto recipe cooked in an instant pot. Are you looking for more pressure cooker recipes? Please visit our great collection-Pressure Cooker Recipes
Instant Pot Keto Cheesecake Recipe
This lovely cheesecake made with gluten-free almond flour crust. Equipment you need to make this dessert-electric instant pot, trivet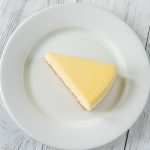 Ingredients
For the Crust:

3/4 cup blanched almond flour

3 tablespoons (45 ml) salted butter, melted

1 tablespoon (15 ml) powdered erythritol sweetener

For the Filling:

16 oz (480 g) cream cheese, at room temperature

2/3 cup erythritol sweetener

2 large eggs, at room temperature

1/4 cup (60 ml) whipped cream, at room temperature

1 tablespoon (15 ml) freshly squeezed lemon juice

1 teaspoon (5 ml) vanilla extract
Instructions
Line a bottom and sides of a springform with separate pieces of parchment paper. Set aside.
In a large mixing bowl, combine melted butter and sweetener. Stir well, then add almond flour and continue stirring until butter is absorbed and forms a dough. Transfer the dough to parchment-lined pan.
Using a measuring cup, press the dough down to form a flat and smooth crust, covering the entire bottom of the pan.
Chill in freezer for 20 minutes.
To Make the Filling: In a large mixing bowl, combine cream cheese and sweetener. Using a hand mixer, beat on low-speed until well combined. Add whipped cream, lemon juice, and vanilla extract. Beat for a further 30 seconds.
Add eggs, one at a time, continue beating until just combine, for about 30 seconds more.
Remove the pan with the crust from the freezer. Pour creamy batter over the chilled crust, flatten the surface with wooden spatula.
Pour 1 cup (250 ml) water into the instant pot. Arrange the trivet over the water, then place the pan on top of it. Close the pot and lock the lid.
Set the machine to cook at high pressure. Set the timer to cook for 30 minutes. Using the Natural Release method, bring pressure to normal. Carefully unlock and open the lid. Allow the cheesecake to cool in the pressure cooker. Once cooled, lift it from the cooker, using the trivet's handles.
Transfer to a refrigerator. Refrigerate for at least 24 hours before using.
Remove from the refrigerator. Slice and serve.