Low-carb pumpkin cheesecake recipe. Very easy pumpkin dessert baked in an oven. The best choice for vegetarian and as well for Halloween.
Are you looking for more low-carb recipes? Try our The best Lobster Chowder
Ingredients in Pumpkin Cheesecake
cream cheese, pumpkin puree, eggs, sweetener, pumpkin pie spice, cinnamon, vanilla extract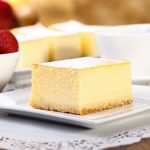 Ingredients
1/2 pound (240 g) cream cheese, softened

1 pound (480 ml) can pumpkin puree

5 large eggs, beaten

1 cup (250 ml) granulated sweetener

1 teaspoon (5 ml) pumpkin pie spice

1 teaspoon (5 ml) ground cinnamon

1 teaspoon (5 ml) vanilla extract
Instructions
Preheat the oven to 375º F (180º C).
Grease a 8-inch (20 cm) glass baking dish with a nonstick cooking spray.
Place the cream cheese in a large mixing bowl. Using a stand mixer, beat until smooth.
Stir in the remaining ingredients and beat well.
Transfer the batter into the greased baking dish. Bake in preheated oven for about 40 minutes or until a toothpick inserted in the center of cake comes out clean.
Turn off the oven. Remove baked pumpkin cheesecake from the oven and transfer to a serving plate. Cool to room temperature. Serve cold.