Slow cooker spinach and artichoke dip recipe. Very easy and tasty appetizer cooked in a slow cooker. You may also like Baked Mushrooms, another healthy and easy delicious recipe cooked in a crock pot/slow cooker.
You can use this recipe as a spread or dip. Are you looking for more slow cooker recipes? We have a great collections of them, please check it out-Slow Cooker Recipes
Slow Cooker Easy Spinach and Artichoke Dip Recipe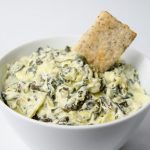 Ingredients
10 oz (300 g) box frozen spinach, thawed

2 15 oz (450 ml) each) cans artichoke hearts, drained and chopped

1½ cups shredded Cheddar cheese

1/2 cup grated Parmesan cheese

2 cloves garlic, peeled and chopped

1 teaspoon crushed red pepper flakes

pinch of kosher salt
Instructions
In a slow cooker, combine spinach, chopped artichokes, cheese, and red pepper flakes. Stir well.
Season with salt. Cover the pot and cook on high-heat setting for 1 hour.
Open the lid and stir the mixture until creamy. Cover the cooker, then reduce heat to low and continue cooking for a further 30 minutes.
Use as a dip or spread.