Slow cooker lemon and poppy seed bread recipe. Very easy and tasty bread baked in a slow cooker. You may also like Coconut-Lime Bread, another healthy bread cooked in a crock pot.
Looking for more easy and delicious slow cooker recipes? Please visit our big collection-Slow Cooker Recipes
Slow Cooker Lemon and Poppy Seed Bread Recipe
This recipe is designed for a 4-5-quart slow cooker.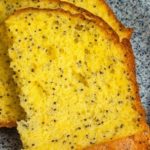 Ingredients
2 cups (500 ml) all-purpose flour

1/4 cup (60 ml) poppy seeds

1 tablespoon (15 ml) baking powder

1/2 teaspoon salt

1 cup (250 ml) granulated sugar

3 large eggs, beaten

1/2 cup (125 ml) vegetable oil

1/2 cup (125 ml) Greek yogourt

1/4 cup (60 ml) milk

1 teaspoon (5 ml) finely shredded lemon peel

1/4 cup (60 ml) freshly squeezed lemon juice

1 teaspoon (5 ml) vanilla
Instructions
Grease the  inside of a slow cooker with nonstick cooking spray.
In a large mixing bowl, combine all-purpose flour, poppy seeds, baking powder, and salt. Stir well, then set aside.
In a medium mixing bowl, combine the remaining ingredients. Whisk well.
Add lemon mixture to the flour mixture. Stir just until combined. Spoon the batter into greased slow cooker.
Cover the pot and cook on high-heat setting for 1½-2 hours or until a toothpick inserted in the centre of the bread comes out clean.
Turn off the cooker and carefully remove the lid. Cover opening of slow cooker with paper towels, then place the lid on top.
Set aside and allow cooling for 15 minutes.
Run a knife around edges of pot and remove bread from the cooker. Transfer to a wire rack and cool completely.