Slow cooker lentil-veggie soup recipe. A very easy and delicious vegetarian soup with lentil and vegetables cooked in a slow cooker. The combination of lentil and vegetables makes this soup thick and perfect for a cold-weather day.
Are you looking for more delicious vegetarian recipes? Try to prepare Healthy Vegan Quinoa Salad, also, please visit our huge collection of slow cooker recipes-Slow Cooker Recipes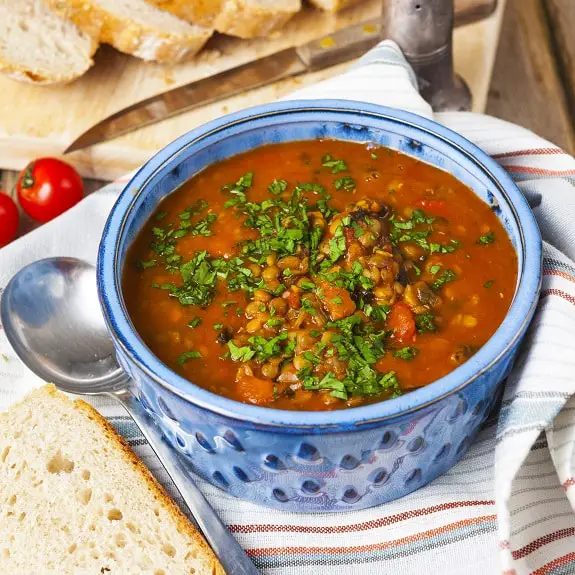 Ingredients
1 cup (250 ml) dry lentils, rinsed

1 cup (250 ml) chopped carrots

1 cup (250 ml) chopped celery

1 cup (250 ml) chopped yellow onions

2 cloves garlic, peeled and minced

1/2 teaspoon (3 ml) dried basil, crushed

1/2 teaspoon (3 ml) dried oregano leaves, crushed

1/4 (1 ml) dried thyme leaves, crushed

1 bay leaf

2 14-oz (420 ml) cans vegetable broth

1½ cups (375 ml) water

1 14½ oz (435 ml) can Italian-style stewed tomatoes, undrained

1/4 cup (60 ml) snipped fresh parsley
Instructions
In a 4-quart (4 l0 slow cooker, combine rinsed lentils, carrots, celery, yellow onions, garlic, herbs, and bay leaf. Mix well.
Stir in vegetable broth, water, and undrained tomatoes.
Cover the pot and cook on low-heat setting for 12 hours.
Turn off the cooker and open the lid. Discard bay leaf. Stir the soup well before serving. Ladle into soup bowls. Serve hot.