Slow cooker paleo meatballs recipe. Beef meatballs with Italian marinara sauce cooked in a slow cooker. Easy and tasty paleo-friendly recipe!
You may also like Barely Vegetable Soup, another healthy recipe cooked in a slow cooker/crock pot. Are you looking for more slow cooker recipes? Please visit our great collection-Slow Cooker Recipes
Slow Cooker Paleo Meatballs Recipe
You can substitute ground chicken or turkey for ground beef, if desired. Also, use 4-6-quart (4-6 L) slow cooker/crock pot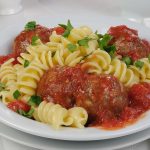 Ingredients
For the Meatballs:

2 pounds (960 g) ground lean beef

1 large egg, beaten

1/4 cup blanched almond flour

3/4 teaspoon fine grain sea salt, divided

2 teaspoons onion powder

1/2 teaspoon garlic powder

1 tablespoon Italian seasoning

pinch of crushed red pepper

For the Marinara Sauce:

28 oz (840 ml) can crushed tomatoes with basil

14 oz (420 ml) can diced tomatoes with basil and garlic

6 oz (180 ml) can tomato paste

1/2 medium yellow onion, peeled and chopped

2 tablespoons minced garlic

2 tablespoons chopped fresh oregano

2 bay leaves

sea salt
Instructions
To Make Meatballs:  In a small mixing bowl, combine the almond flour, 1/2 teaspoon salt, onion and garlic powders, Italian seasoning, and crushed red pepper.  Mix well.
Add ground beef to a  large mixing bowl and sprinkle with remaining sea salt. Stir in beaten egg and flour mixture.  Gently mix with wet hands until the mixture binds.
Line the baking sheet with parchment paper. Preheat your broiler.
Form beef mixture into meatballs. Arrange on prepared baking sheet. Broil in preheated broiler for 2-4 minutes until just lightly browned.
In a medium mixing bowl, combine all sauce ingredients. Mix well.
Remove broiled meatballs from the broiler and transfer to a 4-6-quart (4-6L) slow cooker. Top with marinara sauce.
Cover the pot and cook on low-heat setting for 4 hours, or until meatballs are cooked through.
Turn off the cooker and open the lid. Stir meatballs well before serving. Serve hot over cooked pasta.