The best Christmas drink recipe. A very delicious drink with milk, peppermint schnapps, whipped cream, and cream de cacao.
Do you have a party and looking for more elegant drinks? Try to prepare Pina Colada Smoothie, a very easy and healthy non-alcoholic mixed drink.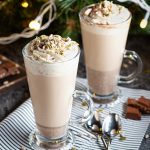 Ingredients
2 cups (500 ml) milk

1/2 cup (15 ml) hot chocolate mix

1/4 cup (60 ml) peppermint schnapps

1/4 cup (60 ml) creme de cacao

whipped cream

chopped nuts
Instructions
In a medium saucepan, heat the milk over medium heat, just until creamy, for about 5 minutes.
Stir in the hot chocolate mix. Continue cooking for a further 2-3 minutes.
Remove the milk mixture from the heat. Stir in the peppermint schnapps and creme de cacao. Ladle into tall glasses and top with whipped cream.
Sprinkle with chopped nuts. Serve warm.