Crock pot chicken lentil stew recipe. Chicken breasts with vegetables and spices cooked in a slow cooker. Very easy and tasty Ethiopian recipe.
This tasty recipe adapted from https://sweetpeasandsaffron.com/slow-cooker-ethiopian-chicken-lentil-stew/
You may also like Slow Cooker Baked Potatoes
Crock Pot Chicken Lentil Stew Recipe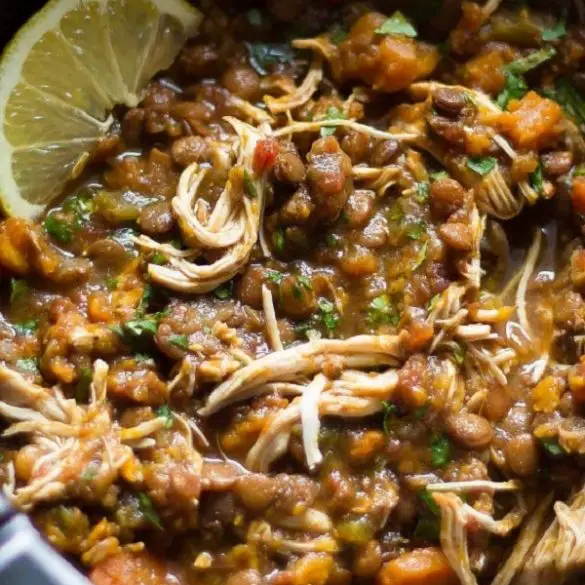 Ingredients
2 tablespoons unsalted butter

1 yellow onion, peeled and finely diced

2 tablespoons Berber spice mix (see rice below)

1/2 teaspoon ground cardamom

2 teaspoons paprika

1 tablespoon minced ginger

3 cloves garlic, peeled and minced

2 medium carrots, peeled and sliced

2 ribs celery, sliced

2 cups, cubed sweet potatoes

2 boneless and skinless chicken breasts

1 cup dried green lentils

19 oz (570 ml) can diced tomatoes, undrained

1 cup (250 ml) chicken stock

After Cooking:

Freshly squeezed juice of 1/2 lemon

1 teaspoon brown sugar

pinch of salt

For Berber Spice:

3 tablespoons paprika

1 tablespoon red pepper flakes

1 tablespoon sea salt

1/2 tablespoon cayenne pepper

2 teaspoons cumin powder

1 teaspoon ground cardamom

1 teaspoon fenugreek seed (mustard seeds fit as well)

1 teaspoon ground coriander

1 teaspoon freshly ground black pepper

1 teaspoon ground turmeric

1/2 teaspoon ground allspice

1/2 teaspoon ground cinnamon

1/2 teaspoon ground nutmeg

1/2 teaspoon garlic powder

1/2 teaspoon ground ginger
Instructions
In a medium saucepan, melt the butter over medium heat. Add diced onions and cook, stirring occasionally, until cooked through, for about 3-5 minutes.
Add the Barber spices, cardamom, paprika, ginger, and garlic. Cook for a further 1 minute.
Remove the onion mixture from the pan and transfer to a slow cooker. Add remaining ingredients. Stir well.
Close the cooker and cook on low-heat setting for 6 hours.
Turn off the pot and open the lid. Stir in the lemon juice, brown sugar, and salt.
To Make Berber Spices
makes 1 cup
In a mixing bowl, combine all spice ingredients. Mix well.