Instant pot split pea ham soup. Enjoy a delicious and easy-to-make split pea ham soup in minutes with an Instant Pot. Featuring all the classic flavors of this traditional favorite, this hearty soup is made with simple ingredients and makes a perfect meal for any day of the week.
What is Split Pea Ham Soup and Why Should You Try it?
Split pea ham soup is a traditional and healthy dish that is often served on special occasions. It's made with split peas, ham, and other ingredients like carrots, onions, celery, and spices.
This delicious soup can be cooked in an Instant Pot or on the stovetop. Not only is it nutritious and delicious but it's also incredibly easy to make. If you're looking for a healthy meal that won't take too much time to prepare, then split pea ham soup is a perfect choice!
Benefits of Eating Split Pea Ham Soup Regularly
Eating split pea ham soup regularly can provide a number of health benefits. This delicious and nutritious dish is packed with essential vitamins, minerals, and other nutrients that can help to boost your energy levels, support your immune system, and even aid in weight loss.
Different Variations/Variants of Split Pea Ham Soup
Split pea and ham soup is a classic comfort food that has been enjoyed for generations. It's easy to make and can be adapted to suit different dietary requirements. Whether you're looking for a vegetarian, vegan, gluten-free, or low-calorie version of the dish, there are plenty of variations to choose from. In this article, we'll explore some of the different variations/variants of split pea and ham soup so you can find the one that suits your taste and dietary needs best.
1. Split pea and ham soup with green vegetables– This classic version of split pea and ham soup is extra versatile and can be made into a vegetarian or vegan dish by subbing in vegetable broth for the traditional ham stock. This recipe also calls for additional vegetables like celery, carrots, onion, and rutabaga which are not traditionally included in split pea soup due to their bitterness.
This recipe is also gluten-free. For more ideas on how to make this more low-calorie, try adding fresh spinach instead of celery with each serving.
Instant Pot Split Pea Ham Soup
You may also like:
Instant Pot Cajun Rice and Sausages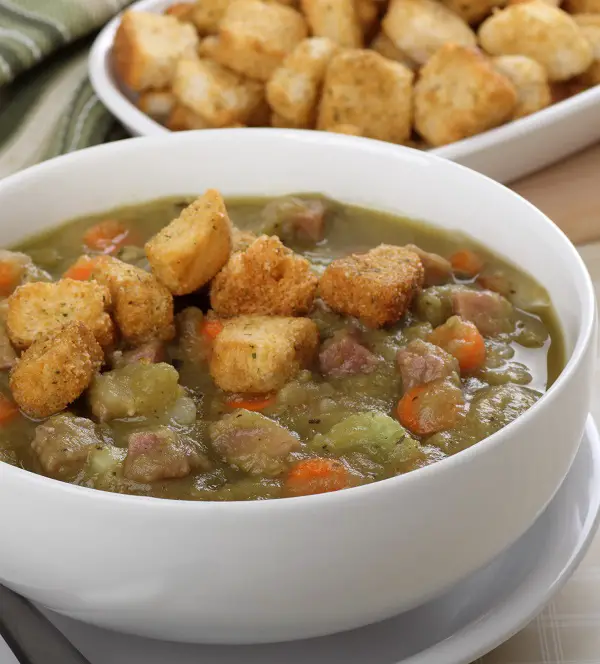 Ingredients
1 pound (480 g) green split peas

2 pounds (960 g) ham bone or smoked pork hock

2 tablespoons olive oil

1 medium yellow onion, peeled and diced

6 cloves garlic, peeled and minced

dried thyme

2 bay leaves

2 carrots, peeled and chopped

1 rib celery, chopped

6 cups (1.5 L) unsalted chicken stock
Instructions
Heat the olive oil in an electric instant pot turned to saute mode.
Add diced onions, season with salt, and saute, stirring occasionally, until softened, for about 2 minutes.
Stir in minced garlic, dried thyme, and bay leaves. Saute for a further 1 minute.
Add in chopped carrots and celery. Continue sauteing for another minute.
Pour in 1/2 cup (125 ml) of chicken stock. Make sure to scrape off all the brown bits at the bottom of the pot with a wooden spoon. This will add flavor and ensure that everything is properly deglazed.
Stir in green split peas and ham, then add the remaining chicken stock. Ensure all the split peas are covered by the liquid while boiling.
Close the pot and lock the lid. Set the machine to cook to high pressure. Set the timer to cook for 15 minutes.
Using the natural Release method, bring pressure to normal. Carefully unlock and open the lid.
Remove the pork hock or ham bone and give it a few light stirs. The soup will gradually thicken as it stands.  
Once you have tasted the soup, adjust its saltiness to your preference by adding more salt if needed. As a guideline, 2 large pinches of kosher salt were added. 
Notes
To make full use of smoked pork hock, first cut the meat into desired sizes and add them back into the soup or create a sandwich with it. For the perfect, tender pork hock, pre-cut it into halves or quarters before pressure-cooking for the best results. If you opt to not use meat, the pressure cooking time remains the same. No adjustments are required.