Slow cooker beef gyros. Create delicious, juicy beef gyros with the convenience of a slow cooker. Our easy-to-follow recipe yields perfectly cooked beef gyros that are full of flavor and sure to be a hit. Get ready for flavorful dinners with this beef gyros recipe!
What is a Beef Gyros?
Beef Gyros is a classic Greek dish that has been around for centuries. It consists of slow-cooked beef strips, served in a pita pocket with tzatziki sauce, tomatoes, onions, and feta cheese. It is a delicious meal that is simple to make and can be enjoyed by everyone.
Beef Gyros can be cooked in a slow cooker or on the stovetop. The slow cooker method allows the beef to cook slowly over low heat for several hours until it is tender and full of flavor. This method also makes it easier to prepare the other ingredients such as the tzatziki sauce and vegetables while the beef cooks.
Whether you're looking for an easy weeknight dinner or an impressive dish to serve your guests, Beef Gyros are sure to please! With its savory flavors and simple preparation process, it's no wonder why this classic Greek dish has become so popular!
Greek-inspired gyros are the perfect way to enjoy a delicious and easy meal. This recipe combines classic Greek flavors with the convenience of a slow cooker, resulting in a tender and flavorful beef gyro.
The slow cooking process allows the beef to become incredibly tender and infused with all of the traditional Greek flavors. The result is an incredibly delicious dish that can be enjoyed any night of the week!
The Benefits of Using a Slow Cooker to Make Beef Gyros
Slow cooking is a great way to make delicious and healthy meals at home. With the help of a slow cooker, you can easily make beef gyros that are full of flavor and nutrition. By using a slow cooker, you can ensure that all the ingredients are cooked evenly and to perfection.
This will not only provide you with a tasty meal but also ensure that the nutrients in the ingredients are preserved. Furthermore, it is an easy and cost-effective way to make healthy recipes with ground beef and potatoes in a slow cooker. In this article, we will explore the benefits of using a slow cooker to make beef gyros.
Slow Cooker Beef Gyros
You may also like:
Slow Cooker Zoodles in Meat Sauce
Instant Pot Shrimp-Stuffed Potatoes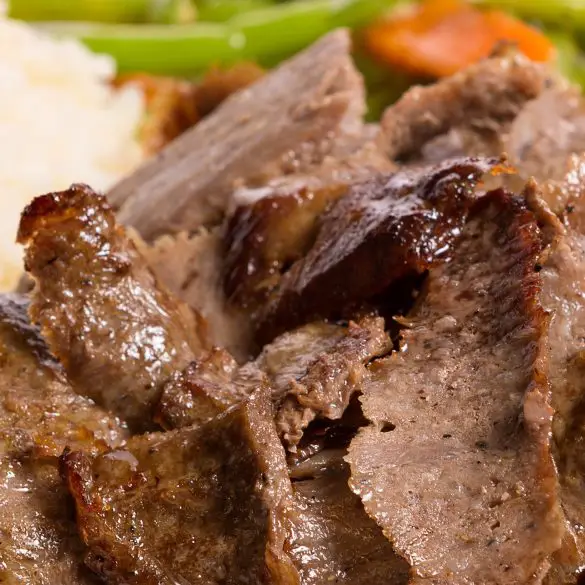 Ingredients
2 pounds (960 g) beef stew meat

1/4 cup (60 ml) plus 2 tablespoons extra-virgin olive oil

1 tablespoon minced garlic

1 teaspoon dried oregano

1/2 teaspoon salt

1/4 teaspoon freshly ground black pepper

2 tablespoons freshly squeezed lemon juice
Instructions
Heat 2 tablespoons olive oil in a large nonstick skillet over medium-high heat.
Add the beef and cook until browned on all sides. Remove browned meat from the skillet and transfer it to a 6-quart (6 L) slow cooker.
In a small bowl, combine 1/4 cup (60 ml) of olive oil, garlic, oregano, salt, black pepper, and lemon juice. Stir well, then pour the mixture over the beef in the slow cooker.
Cover the pot and cook on a low-heat setting for 6-8 hours, or until beef is very tender.
Turn off the slow cooker and open the lid. Using tongs, remove cooked beef from the cooker and transfer it to a cutting board.
Slice it and serve as you desire.