Instant pot creamy mushroom spaghetti recipe. Creamy mushroom spaghetti pasta recipe – In this easy to make, instant pot creamy mushroom spaghetti pasta recipe you will learn how to make a yummy and quick meal in less than 30 minutes! The creamy pasta is a mushroom lover's delight. This dish is sure to become your new go-to food in the kitchen.
When I make this pasta, it's so comforting to smell the delicious aromas. It never ceases to fill me with a sense of warmth and delight. Especially during the fall, this is an amazing comfort food that I can't get enough of!
I love using an instant pot to make pasta because it makes the whole process so much easier and faster. It's nothing like draining the water off of your pasta as it can really make a difference in taste and creaminess!
This really is a simple recipe. The main effort involved is slicing and sauteing the mushrooms before they're cooked in the pressure cooker. I like to chop up the mushrooms and take them out, so they will not be overcooked when it cooks with pressure.
Instant Pot Creamy Mushroom Spaghetti Recipe
You may also like:
Instant Pot Tuscan Tomato Chickpea Soup Recipe
Slow Cooker Red Lentil and Vegetable Soup
Instant Pot Rosemary No Knead bread
Instant Pot Hakka Noodles Recipe
Slow Cooker Sweet Potato Lentil Curry Recipe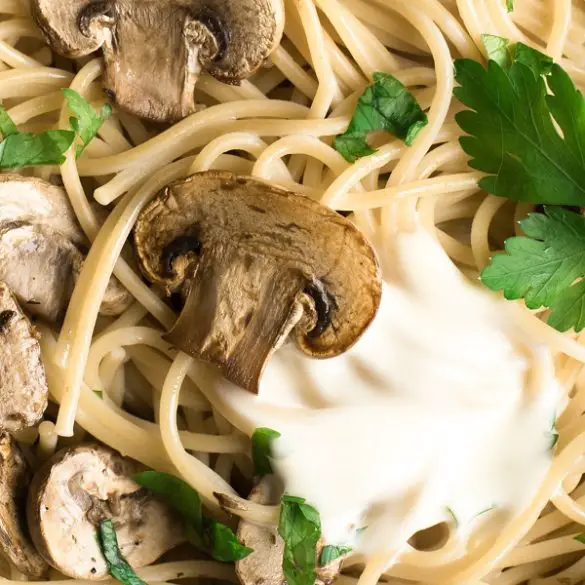 Ingredients
1/2 pound (240 g) uncooked spaghetti

1/2 pound (240 g) Cremini mushrooms, sliced

3 tablespoons olive oil, divided

2/3 cup yellow diced yellow onion

2 cloves garlic, peeled and finely diced

2 cups (500 ml) vegetable broth

1/2 cup (125 ml) heavy cream

1/2 cup grated Parmesan cheese

salt and freshly ground black pepper, to taste

1 tablespoon freshly squeezed lemon juice

chopped fresh parsley, for garnish
Instructions
Heat 2 tablespoons olive oil in an electric instant pot turned to saute mode.
Add mushrooms and saute, stirring occasionally, for 4-5 minutes.
Remove cooked mushrooms from the cooker and transfer them to a plate. Set it aside.
Add the remaining olive oil to the instant pot. Add garlic and onions and saute, stirring occasionally, for a couple of minutes.
Turn off the cooker. Pour in the broth and deglaze the pot, making sure no more browned bits are on the bottom of the cooker.
Add spaghetti to the instant pot, making sure they are covered in broth.
Close the pot and lock the lid. Set the machine to cook at high pressure. Set the timer to cook for 5 minutes.
Using the Quick Release method, bring pressure to normal. Carefully unlock and open the lid.
Stir in heavy cream and cheese. Return the cooked mushrooms to the pot. Season the mixture with salt and black pepper, to taste.
Sprinkle with lemon juice. Garnish with chopped  fresh parlsey. Serve hot.