Instant pot rosemary no-knead bread. One of my favorite variations of making No-Knead Bread for your holiday dinner table is vegan and absolutely delicious. It crusts up beautifully and has a great taste!
Baking bread during the holidays is great for giving as gifts or for serving at the holiday meal. My favorite way to eat it is with some soup, along with butter or it can be dipped into balsamic vinegar and olive oil.
Top 10 Reasons You Should be Making Bread in an Instant Pot
keywords: instant pot, bread maker
Instant pot is one of the most popular kitchen appliances in recent years. The reason behind this is that it saves a lot of time and effort to make food. The following are the top 10 reasons you should be making bread in an Instant Pot:
– It has a timer function, so you don't have to keep checking on your bread
– You can make the dough and bake it at the same time
– You can use just one pot for boiling, baking, steaming, and sauteing
– You can cook your favorite dishes from around the world with just one appliance – It's easy to clean up after using an instant pot
– It's perfect for busy parents who want to feed their family healthy meals without any fuss or mess
– You can cook anything from soup to meats in one pot
– You can make your favorite bread recipes with minimal fuss- You can increase the nutritional value of your food by making it from scratch
– You can make homemade yogurt at home. Instant pots have been making cooking much easier and more convenient. You can cook anything from soup to meats in one pot. The reason they are so often seen in the kitchen is that they save a lot of time and effort.
Instant Pot Rosemary No-Knead Bread
You may also like:
Slow Cooker Sweet Potato Lentil Curry Recipe
Instant Pot Sweet and Spicy Cauliflower Head
Slow Cooker Chicken Taco Soup Recipe
Air Fryer Potato Paratha Recipe
Instant Pot Chicken Risotto Recipe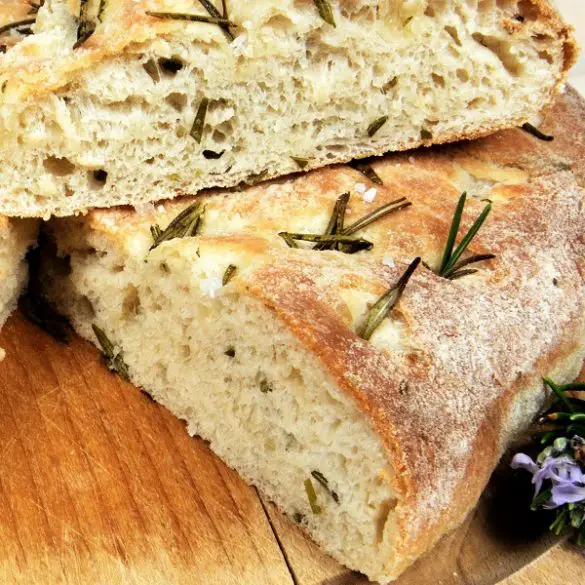 Ingredients
3 cups bread flour

1¼ teaspoons active dry yeast

1¼ teaspoons salt

1 teaspoon granulated sugar

1½ cups (35 ml) lukewarm water

2 tablespoons fresh rosemary leaves

1/4 cup (60 ml) extra-virgin olive oil
Instructions
In a large mixing bowl, combine lukewarm water, sugar, and yeast. Stir well, then cover and let it rest for 10 minutes (yeast water should look frothy)
In another large bowl, combine the bread flour, olive oil, rosemary, and salt. Mix well.
Add yeast water a little at a time (add slowly).
Line the bottom of the instant pot with parchment paper, then spray it with oil.
Place the dough in the cooker. Close the pot and lock the lid.
Press the yogurt button on the Normal Setting. Set the timer to cook for 4 hours. After four hours you'll see bubbles on the surface and the dough will have risen more than double.
Preheat the oven to 450º F (225º C). Put the Dutch oven in the oven to preheat it as well.
Remove the dough from the instant pot before transferring it to a new parchment paper. We'll also need to dust it with flour.
Shape the dough with your hands into a tight ball.
Sprinkle some rosemary on the dough, then wrap it up in a towel for about 30 minutes. Now carefully remove the Dutch oven from the oven. Remove the lid and gently put it in the dough ball. Sprinkle some flour on top.
Make sure to secure the lid and pop it in preheated oven for 30 minutes.
Cook for 10 to 15 minutes more with the lid off at 450 degrees Fahrenheit and place in the middle rack.
Remove the loaf from the oven and let it rest for about 10 minutes on a rack. To keep it warm, wrap a cloth over it.