Air fryer corn ribs. Get restaurant-style corn ribs without the hassle of deep-frying!
Introduction: Introducing Air Fryer Corn Ribs
Welcome to my blog on mastering the art of air fryer cooking with a delicious recipe for crispy corn ribs! In this recipe, I'll show you how to transform ordinary corn into a mouthwatering snack using the magic of an air fryer. Get ready to tantalize your taste buds and impress your friends and family with this easy and flavorful dish. So let's dive right in and discover the wonders of air fryer corn ribs!
Benefits of Using an Air Fryer: Hassle-Free and Healthier Cooking
Now that you're familiar with air fryer corn ribs, let's talk about the benefits of using an air fryer for cooking. One of the biggest advantages is the hassle-free experience it offers. Unlike traditional frying methods, air fryers require little to no oil, which means less mess and easier cleanup. No more dealing with hot oil splatters or greasy stovetops!
But that's not all. Air fryers also promote healthier cooking. By using hot air circulation, they can achieve the same crispy texture as deep-frying but with significantly less fat. This means you can enjoy your favorite fried foods guilt-free. Whether you're craving french fries, chicken wings, or, of course, corn ribs, the air fryer has got you covered.
Not only does it reduce the amount of unhealthy fats in your meals, but it also cuts down on calories without sacrificing flavor. So if you're looking to make healthier choices without compromising on taste, the air fryer is your new best friend.
Stay tuned as we move on to the next part of our video, where we'll guide you through the step-by-step process of making perfect air fryer corn ribs!
Step-by-Step Recipe: How to Make Perfect Air Fryer Corn Ribs
Now that you know the benefits of using an air fryer, let's dive into the step-by-step process of making perfect this dish.
First, start by preheating your air fryer to 400 degrees Fahrenheit (200 degrees Celsius). This will ensure that your corn ribs cook evenly and become crispy on the outside.
While the air fryer is preheating, prepare the corn ribs by cutting a fresh ear of corn into smaller rib-like pieces. You can do this by slicing the corn lengthwise into quarters or eighths, depending on your preference.
Next, season the corn ribs with your favorite spices and herbs. You can keep it simple with just salt and pepper, or get creative with flavors like chili powder, garlic powder, or smoked paprika. Make sure to coat the corn ribs evenly for maximum flavor.
Once the air fryer is preheated, place the seasoned corn ribs in a single layer inside the air fryer basket. Avoid overcrowding to ensure proper air circulation and even cooking.
Cook the corn ribs in the air fryer for about 12-15 minutes, flipping them halfway through. Keep an eye on them to prevent overcooking or burning. The corn ribs should be golden brown and crispy when done.
Finally, remove the corn ribs from the air fryer and let them cool slightly before serving. They are best enjoyed hot and crispy, either as a snack or as a delicious side dish.
There you have it! With just a few simple steps, you can make perfect fried corn ribs that are crispy on the outside and tender on the inside. Stay tuned for the next part of our video, where we'll share some tips and tricks for adding even more flavor to your corn ribs!
Tips and Tricks for Flavorful Corn Ribs: Seasoning and Serving Suggestions
Now that you know how to make perfect corn ribs, let's explore some tips and tricks to take their flavor to the next level.
One of the easiest ways to enhance the taste of your corn ribs is through seasoning. While salt and pepper are classic choices, don't be afraid to experiment with different spices and herbs.
Consider adding a sprinkle of chili powder for a kick of heat, garlic powder for a savory twist, or smoked paprika for a smoky flavor. The possibilities are endless, so get creative and find your favorite combination!
Another tip for flavorful corn ribs is marinating them before cooking. You can create a marinade using ingredients like lime juice, olive oil, and your choice of seasonings. Simply coat the corn ribs in the marinade and let them sit for at least 30 minutes to allow the flavors to penetrate the kernels. This will result in even more delicious and well-seasoned corn ribs.
When it comes to serving suggestions, corn ribs are incredibly versatile. They make fantastic appetizers or snacks on their own, but you can also incorporate them into various dishes.
Try adding them to salads for a crunchy element, using them as a topping for tacos or nachos, or even tossing them into pasta for a unique twist. The sweet and savory flavors of corn ribs can complement a wide range of cuisines and dishes.
Remember, presentation matters too! Sprinkle some fresh herbs, such as cilantro or parsley, on top of your corn ribs for an added pop of color and freshness. You can also serve them with a dipping sauce like aioli, ranch dressing, or spicy salsa to elevate the overall experience.
With these tips and tricks, you can take your fried corn ribs from delicious to extraordinary. Get creative with seasonings, try marinating for extra flavor, and explore different serving ideas. The possibilities are endless, so have fun experimenting and enjoy your flavorful corn ribs!
Air Fryer Corn Ribs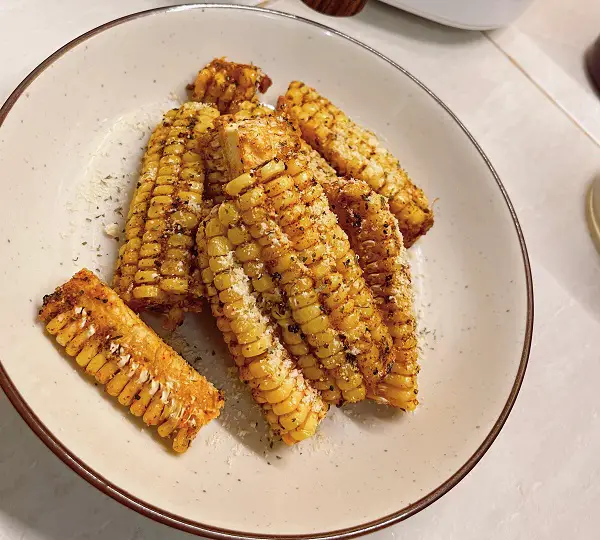 Ingredients
2 ears fresh corn, husked

3 tablespoons olive oil

1 teaspoon chili powder

1/4 teaspoon garlic powder

1/4 teaspoon freshly ground black pepper
Instructions
Preheat your oven to 400°F (200°C).
Cut an ear of corn in half lengthwise and then cut each half into two long strips. Do this for the other ear of corn too - you should have 8 long strips of corn in total.
Mix olive oil, chili powder, garlic powder, and black pepper in a bowl.
Brush the mixture onto both sides of each rib. Put the ribs in your air fryer basket.
Air fry the ribs for 12 minutes. Flip them over halfway through cooking.