Air fryer breaded oysters. Enjoy a delicious meal with air fryer breaded oysters. Our quick and easy recipe is sure to make perfect oysters every time. With just a few simple instructions, you can enjoy these delicious, crispy treats in no time. Try our air fryer breaded oysters today and taste the difference!
Introduction to Air Fryer Breaded Oysters
If you're a fan of seafood, then you know that oysters are a delicacy that can be enjoyed in many ways. One of the most popular methods of cooking oysters is by breading and frying them. However, traditional deep-frying can be messy and unhealthy.
That's where air fryers come in! With an air fryer, you can achieve the same crispy texture without all the oil and mess. In this article, we'll guide you through the process of making perfect air fryer breaded oysters. From the ingredients and equipment needed to step-by-step instructions, we've got you covered. So, let's get started on this crunchy delight!
Ingredients and Equipment Needed
To make perfect air fryer breaded oysters, you will need a few key ingredients and equipment. For the ingredients, you will need fresh oysters, all-purpose flour, eggs, panko breadcrumbs, salt, pepper, and any additional seasonings of your choice. It's important to use fresh oysters for the best flavor and texture.
As for equipment, you will need an air fryer, a mixing bowl, a whisk or fork, and a pair of tongs. The air fryer is essential for cooking oysters to crispy perfection without the need for deep frying in oil.
A mixing bowl is necessary for combining the flour, eggs, and breadcrumbs to create the breading mixture. A whisk or fork will help you beat the eggs and mix the ingredients evenly.
Lastly, a pair of tongs will allow you to handle delicate oysters without damaging them during the cooking process.
Step-by-Step Instructions for Making Breaded Oysters
To start making air fryer breaded oysters, you need to prepare your ingredients and equipment. Rinse the oysters in cold water and pat them dry with a paper towel. Then, set up a breading station with three shallow bowls: one for flour, one for beaten eggs, and one for breadcrumbs mixed with seasoning.
Dredge each oyster in the flour, shaking off any excess. Dip it into the beaten eggs, making sure it's fully coated. Finally, coat it in the seasoned breadcrumbs, pressing gently to adhere the coating to the oyster.
Preheat your air fryer to 400°F (200°C) for 5 minutes. Lightly spray the air fryer basket with cooking oil. Place the breaded oysters in a single layer in the basket, leaving some space between them. Cook for 6-8 minutes, flipping them halfway through the cooking time, until they're golden brown and crispy.
Once the oysters are cooked, remove them from the air fryer and let them cool for a minute or two before serving. You can serve them with lemon wedges, tartar sauce, or your favorite dipping sauce. Enjoy your crunchy delights!
Serving Suggestions and Tips for Perfectly Cooked Oysters
Once you've cooked your breaded oysters to perfection, it's time to serve them up and enjoy! Here are some serving suggestions and tips to ensure that your oysters are perfectly cooked and delicious:
YOU MAY ALSO LIKE:
Serve with a squeeze of fresh lemon juice: A little bit of acidity can really bring out the flavors in the oysters. Squeeze some fresh lemon juice over the top of your cooked oysters before serving.
Pair with a dipping sauce: Oysters are delicious on their own, but they're even better when paired with a tasty dipping sauce. Try serving your air fryer breaded oysters with a classic cocktail sauce or a spicy aioli.
Add some texture: To add some extra crunch to your oysters, try topping them with some crispy fried onions or breadcrumbs.
Serve with a side salad: Oysters can be quite rich, so pairing them with a light and refreshing side salad can help balance out the flavors.
Don't overcook: Overcooked oysters can become tough and rubbery. Keep an eye on your oysters while cooking and remove them from the air fryer as soon as they're golden brown and crispy.
By following these tips and serving suggestions, you'll be able to enjoy perfectly cooked and delicious air fryer-breaded oysters every time.
Air Fryer Breaded Oysters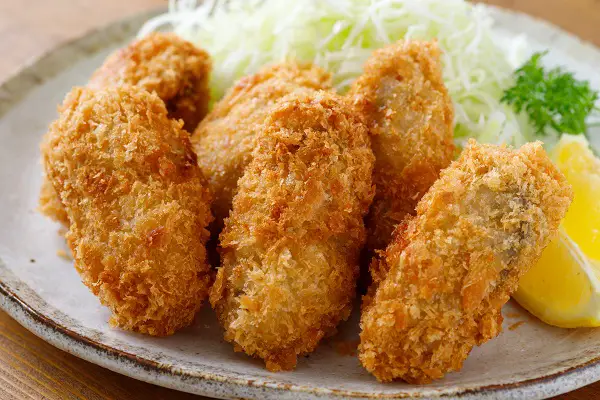 Ingredients
1 large egg, beaten

1/3 cup all-purpose flour

3/4 cup Panko breadcrumbs

1/4 teaspoon freshly ground black pepper

1/2 teaspoon garlic powder

1/2 teaspoon Italian seasoning

1/2 pound (240 g) fresh oysters, rinsed and patted dry
Instructions
In a small mixing bowl, combine the breadcrumbs and seasoning. Mix well and set aside.
Place beaten egg in another shallow dish.
Finally, sift the flour in a third dish.
Dredge each oyster in the flour, shaking off any excess, then dip them in the beaten egg, making sure they are well coated.
Finally, dip them in seasoned breadcrumbs.
Preheat your air fryer to 400º F (200º C).
Fry in preheated air fryer for 6-8 minutes, flipping them halfway through.
Enjoy!