Air fryer Scottish shortbread. Air frying your favorite foods is easier with an air fryer – and this Scottish shortbread recipe is the perfect way to start.
Air Fryers – The Perfect Way to Get Rid of Unwanted Extra Weight
Air frying is a healthy way to prepare food. It doesn't use any oil and it cooks food in a fraction of the time.
Air fryers are perfect for people who want to lose weight because they don't need any oil. They cook food in minutes, which is perfect for those who have little time to spend on cooking.
Introduction: What is Scottish Shortbread
Scottish shortbread is a popular dessert in the United Kingdom. It is a cookie-type confection that is made with butter, sugar, and flour.
Scottish shortbread can be eaten at any time of the day. It can be served with tea or coffee for breakfast, as an afternoon snack, or after dinner as dessert.
Why You Have to Use an Air Fryer to Make Shortbread
Air fryers are perfect for cooking shortbread because they provide the perfect temperature and airflow to get that crunchy, slightly browned, and chewy texture.
There are many reasons why you should use an air fryer to make shortbread. One of the main reasons is that it will give you a more even browning on the shortbread. Another reason is that it will help you avoid having a burnt bottom or overcooking your shortbread.
Air Fryer Scottish Shortbread
You may also like:
Slow Cooker Victoria Sponge Cake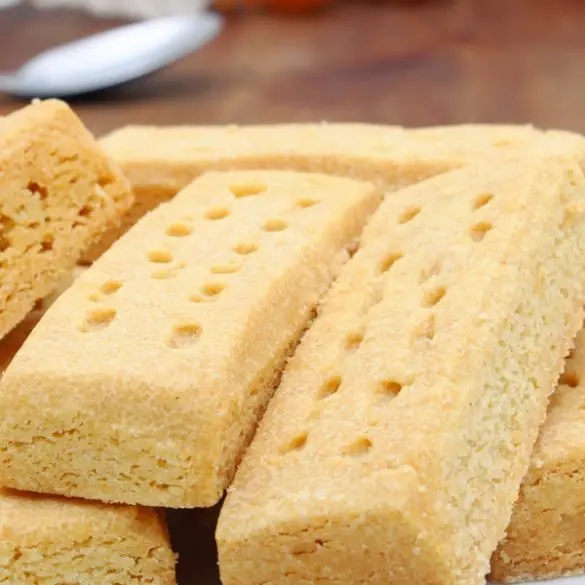 Ingredients
2 cups unsalted butter, softened

1 cup brown sugar

4 cups all-purpose flour
Instructions
Preheat your air fryer to 290º F (145º C).
In a mixing bowl, combine the butter and sugar. Beat until light and fluffy. Stir in 3¾ cups flour and mix well to combine.
Transfer the dough onto a floured surface and knead for 5 minutes, adding enough remaining flour to form a soft dough.
Roll the dough to 1/2 inch (1.25 cm) thickness. Cut it into 3x1 inch (7.5-2.5 cm) strips, then prick them with a fork.
Place one inch apart in an ungreased oven tray in an air fryer basket.
Cook in the preheated fryer until cookies are set and lightly browned, for 7-9 minutes.
Turn off the air fryer. Allow the shortbread to cool in the basket for 2 minutes, then remove them from the fryer and transfer to a wire racks to cool completely.