Slow cooker cinnamon rolls. Baking cinnamon rolls in a slow cooker is an easy way to make them. You don't have to wait for the dough to rise twice, or even once. Everything is finished in the slow cooker. The result is moist and soft rolls.
Got a holiday get-together coming up? Try making Slow Cooker Cinnamon Rolls for an easy, delicious brunch. They're just like classic cinnamon rolls, but made in a crockpot! All you need is gooey cinnamon swirls, fluffy dough, and a sweet icing to top it off. Delicious and fuss-free!
Slow Cooker Benefits
Using your slow cooker for cinnamon rolls is a great idea! It gives you the perfect warm and steamy environment for the rolls to rise and cook. They come out extra soft and moist.
The best part is that it takes less time to make them because you don't have to wait for the dough to rise. Slow cookers are awesome–now you can make delicious cinnamon rolls with them too!
How to Make Cinnamon Rolls in a Slow Cooker
Mix the dough: Mix together two different cinnamon roll recipes: an easy one and a classic overnight one. It will take about 10 minutes until it's ready to use. Then take a break and get ready to make the filling and line the slow cooker with parchment paper.
Shape the rolls: Flatten the dough with a rolling pin. Spread softened butter on top, then sprinkle with sugar and cinnamon. Roll up the dough tightly, like a sleeping bag. Cut the roll into 10-12 pieces.
Cook cinnamon rolls: Bake the rolls for two hours on high heat until the sides are a golden brown color and the centers are cooked all the way through.
That's it! The rolls are now ready. Put icing on top and serve. Can you believe it was that easy?
You must be relieved! If you want the rolls to be a bit brown on the top, after taking them out of the slow cooker, put them in the oven for 5-10 minutes at a low temperature. Check the recipe for more information.
Slow Cooker Cinnamon Rolls
You May Also Like:
Crockpot Beef and White Bean Stew
Air Fryer Dippy Eggs and Soldiers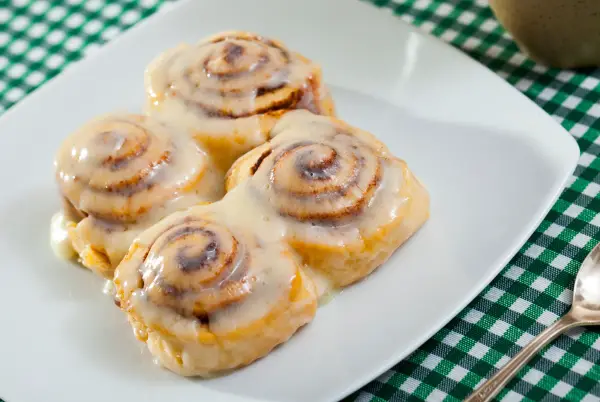 Ingredients
3/4 cup (180 ml) whole milk

1 packet instant yeast (2¼ teaspoons)

1/4 cup plus 1 teaspoon granulated sugar, divided

3/4 teaspoon salt

1/4 cup unsalted butter, melted

1 large egg, beaten

2¾ cups all-purpose flour

To Make Filling:

5 tablespoons unsalted soft butter

1 tablespoon ground cinnamon

1/3 cup granulated sugar

For Icing:

1¼ cups confectioners sugar

2 tablespoons maple syrup

2 tablespoons milk
Instructions
To make dough, heat milk in the microwave or on the stove over low heat until it's lukewarm (about 95°F). Then pour it into a bowl and mix in the yeast and 1 teaspoon of sugar.
Cover the bowl with a clean towel and let sit for 10 minutes, until the yeast becomes foamy.
Next, add the remaining sugar, salt, butter, egg, and 2 cups of flour.
Keep mixing, and then add 1/4 cup of flour at a time until the dough begins to pull away from the sides of the bowl. In total, you'll need 2 3/4 cups of flour.
If you don't have a mixer, you can mix the dough by hand with a wooden spoon.
Put the dough onto a lightly floured surface. Knead it for 1 minute. Wait 10 minutes.
Grease a 4 or 5-quart slow cooker with cooking spray, oil, or softened butter. If you have a bigger slow cooker, spread the rolls out further.
Make the filling: After 10 minutes, roll the dough into a 14x8-inch rectangle. Spread butter on top. Mix cinnamon and sugar, then sprinkle on top of the butter.
Roll it up tightly and cut into 10-12 even pieces. Put the pieces in the slow cooker lined with paper towel.
Don't forget the paper towel and don't use a cloth towel under the lid to avoid condensation.
Turn on your slow cooker and cook for 2 hours or until your rolls are done.
If they need a bit longer, they may need up to 2 hours and 15 minutes.
Once ready, carefully remove the rolls from the cooker by lifting the parchment paper out.
To make the icing, just before you serve your cinnamon rolls, combine confectioners' sugar, maple syrup, and milk. Whisk until everything is smooth. If the mixture is too thick, add a bit more milk.
Drizzle over the warm rolls. Enjoy your rolls the same day for the best taste. If you have leftovers, keep them in the refrigerator for up to 5 days or in the freezer for up to 3 months.
To reheat, put rolls in the fridge overnight, then heat them in whatever way you like.
Notes
You can make the dough for this recipe the night before and leave it overnight. Grease a pie dish or cake pan with some butter and put the dough in it. Then cover it with plastic wrap and store it in the fridge. In the morning, take it out, put each piece of dough into a slow cooker that you lined with some parchment paper. Then finish following the recipe. The rolls will be ready in about 1.5 hours. Quick Dough is a type of dough that is made quickly. It requires an instant yeast, which is different from active dry yeast. This kind of yeast will make the cooking process faster. Want to make rolls with a golden-brown top? Remove them from the slow cooker with parchment paper and put them in a pan that fits. A round slow cooker works best with a pie dish. Bake for 5-10 minutes at 300°F (149°C).