Deliciously Sweet Air Fryer Banana S'mores. Delight your family with the delicious combination of banana, marshmallow, and chocolate with this easy-to-make air fryer banana s'mores recipe. Try it today and experience the ultimate treat!
When it comes to sweet treats, few desserts can compare to the classic flavor combination of banana, marshmallow, and chocolate that makes up a classic s'more—but what if you could enjoy the delicious taste of s'mores without having to make a campfire? Thanks to the air fryer, you can have the creamy, gooey goodness of s'mores in an entirely new way.
Making s'mores in the air fryer is an incredibly easy process that yields delicious results. All you need is your favorite kind of banana, marshmallows, and dark chocolate.
First, slice the unpeeled bananas lengthwise along the inside of the curve and place them in the air fryer. Cook on medium heat for roughly three minutes, or until the banana slices are slightly browned.
Next, add the marshmallows to the top of the banana slices and cook for another two minutes. Finally, top the marshmallows with a few pieces of dark chocolate and cook for an additional two minutes until the marshmallows are golden and the chocolate is melted.
With the air fryer, you can create a delicious s'more-like treat you can enjoy anytime and anywhere. Not only is this a fun way to enjoy a classic dessert, but it also adds a bit of a healthier twist.
Because the banana slices are cooked in the air fryer instead of over an open flame, you are not only avoiding charcoal and smoke, but you are also reducing the amount of added fat and calories to the traditional s'more recipe.
For those who are looking for a unique twist on the classic treat, Deliciously Sweet Air Fryer Banana S'mores are sure to satisfy. Not only are they fun to make and enjoy, but they are also a healthier alternative to the traditional s'more.
This delicious treat can be enjoyed anytime and anywhere, making it the perfect go-to snack or dessert. So, grab your air fryer and get ready to indulge in a Deliciously Sweet Air Fryer Banana S'more!
YOU MAY ALSO LIKE:
Air Fryer Roasted Pears with Blue Cheese
Instant Pot Braised Lamb Knuckle
What Makes Air Fried Banana S'mores So Delicious?
Air-fried banana s'mores are a delicious and easy-to-make dessert that can be enjoyed by everyone. The combination of sweet marshmallows, crunchy graham crackers, and creamy bananas make this treat irresistible.
Not only is it delicious, but it's also a healthier alternative to traditional s'mores recipes since they're cooked in an air fryer instead of over an open flame. With just a few simple ingredients and steps, you can make your own air-fried banana s'mores in no time!
The Best Tips & Tricks for Crafting Deliciously Sweet Air Fryer Banana Smore Treats
If you're looking for a sweet treat that won't compromise your health goals, then look no further! Air fryers are the perfect tool for creating delicious and healthy desserts. In this article, we'll share some of the best tips and tricks for crafting deliciously sweet air fryer banana s'more treats.
We'll walk you through how to make these tasty treats using an air fryer, as well as provide some helpful tips on how to make sure your treats come out perfectly every time. So grab your air fryer and let's get started!
What You'll Need to Make Air Fryer Banana S'mores There are tons of air fryer recipes out there, but many of them rely on ingredients that aren't great for your health.
To make these treats healthier, we recommend sticking with air fryer banana s'more ingredients that you can easily find at the store. Here's what you'll need to get started: 4 bananas, mini semi-sweet chocolate chips, mini peanut butter chips, mini marshmallows, and graham cracker cereal.
Deliciously Sweet Air Fryer Banana S'mores
So, here is the final point-This post presents a recipe for an inventive treat that combines two classic desserts – bananas and s'mores. By using an air fryer to lightly toast the marshmallows and melt the chocolate, the recipe aims to perfectly combine all the flavors in one dish.
1) An air fryer is an excellent tool for cooking a variety of dishes;
2) This recipe presents an interesting combination of bananas and s'mores that can be made quickly and easily;
3) The end results of this recipe will be an incredibly delicious treat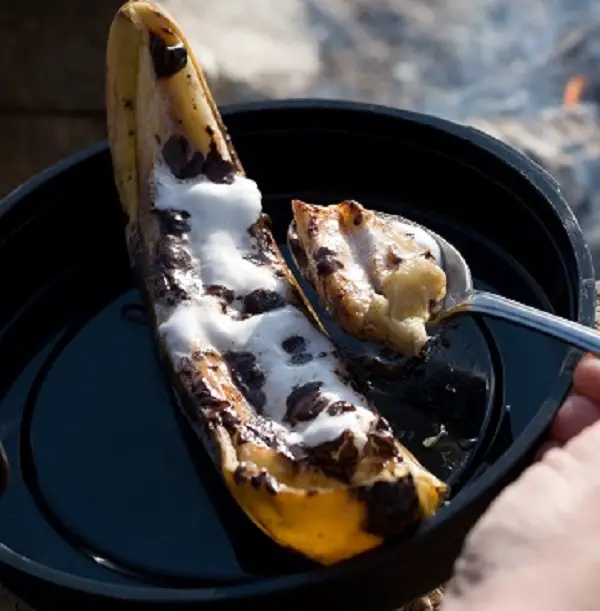 Ingredients
4 ripe bananas

3 tablespoons mini-sweet chocolate chips

3 tablespoons mini marshmallows

3 tablespoons Graham Craker cereal
Instructions
Turn on the air fryer and set the temperature to 400 º Fahrenheit (200º Celsius)
Cut the banana down the middle, but not through the bottom of the peel. Open the banana up a bit and make a pocket.
Put chocolate chips, peanut butter chips, and marshmallows into each pocket. Push the graham cracker cereal into the filling.
Put the bananas in the air fryer, stacking them so they stay standing with the filling facing up.
Cook for 6 minutes, or until the banana is soft and the peel is blackened and the chocolate and marshmallows have melted and are toasty.
Allow the pies to cool for a few minutes, then scoop out the filling with a spoon and serve.