Every recipe tells a story, and that's particularly true when it comes to traditional dishes like Instant Pot Khoresh Gheymeh. Native to Iran, this flavorful stew packs in a delicious mix of ingredients, each with its unique benefits and substitutes. In the ensuing consideration, you'll delve into the intricacies of this dish; from understanding each ingredient and their role in the final preparation to the cultural significance it holds.
Furthermore, we will explore the versatile world of Instant Pot; its operation, functions, safety measures, and maintenance that will make your cooking experience delightful. The journey of creating Khoresh Gheymeh is not just about mixing ingredients in a pot, but also mastering specific cooking techniques, including stewing meat, sautéing onions, and properly cooking split peas. Finally, it's not just a feast for the palate but for the eyes too, hence, we will guide you on how to garnish and serve this dish in a way that truly celebrates its spirit.
Understanding the Recipe and Ingredients
Understanding the Recipe: Instant Pot Khoresh Gheymeh
Khoresh Gheymeh is a traditional Iranian dish made up of meat, split peas, onions, tomato paste, dried lime, and French fries served with rice. This dish is inherent to Persian cuisine and commonly enjoyed during special occasions and family gatherings. It carries a beautiful blend of sourness from the dried lime and a burst of flavors from the spices used. Making it in an instant pot not only simplifies the process but also enhances the flavors as the ingredients are pressure-cooked together, retaining maximum nutrition and taste.
Study of Ingredients
Meat: The recipe traditionally uses stewing beef or lamb. They both add a rich and hearty flavor to the dish. For vegetarians, a good substitute can be firm tofu or seitan. Well-marinated mushrooms can also mimic the chewiness of meat.
Split Peas: Split peas contribute to the bulk and protein content of the dish. They are a great source of dietary fiber, protein, and B vitamins.
Onions: Forming the base of the dish, onions add a subtle sweetness and richness. They are known for their antioxidant properties.
Tomato Paste: The tomato paste lends the dish its tanginess and depth of flavor. In case of unavailability, it can be substituted with fresh tomatoes.
Dried Lime: This is a key ingredient in many Persian dishes. They give a unique, tangy flavor. If you can't find it, use fresh lime or lemon zest as a substitute.
Oil: Oil is used for sautéing. It is a fundamental ingredient of countless dishes and brings out the flavor of the other ingredients.
Spices: Turmeric, saffron, and salt are primary spices. These spices are known for their health benefits including anti-inflammatory properties and digestion improvement.
French Fries: They are added as a garnish. A healthier alternative can be oven-baked potato or sweet potato strips.
Procuring the Ingredients
Most of these ingredients like meat, onions, oil, and spices can be easily found in your local grocery stores. Split peas, dried limes, and saffron might be available in the international aisle. For a wider variety or if these ingredients are not available locally, you can consider online shopping from websites like Amazon, or specifically Middle Eastern grocery websites.
Conclusion
Understanding the ingredients of Instant Pot Khoresh Gheymeh and their role in enhancing the dish's flavor profile can massively elevate the cooking and eating experience. Not only do you appreciate the dish more, you also learn about each ingredient, its health benefits, and the culinary techniques employed in the dish. This results in a better understanding of Persian cuisine and its many flavorful offerings.
Instant Pot Usage
Getting to Know Your Instant Pot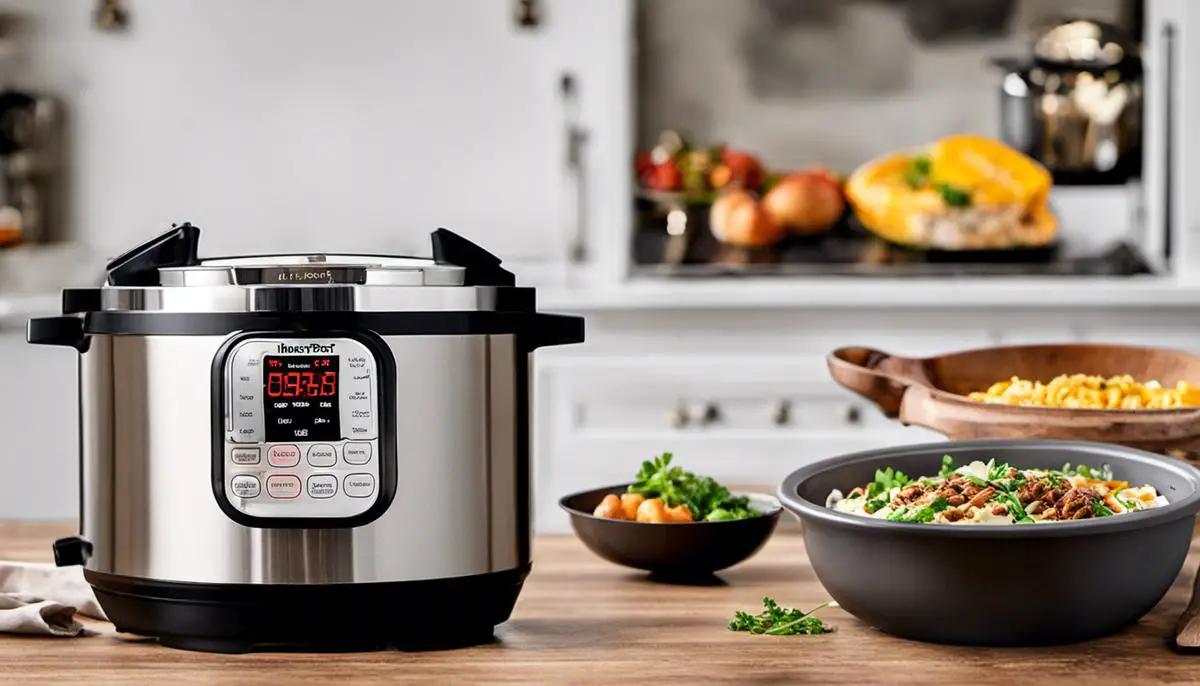 The Instant Pot is a multipurpose kitchen appliance that serves as a pressure cooker, slow cooker, rice cooker, steamer, and more. It comes with a digital interface that allows you to select between its various functions. Before operating, familiarize yourself with the control panel, which usually includes buttons for pressure level, temperature, timer, and keep-warm function.
Operating Your Instant Pot
To start using your Instant Pot, first ensure it is placed on a flat, heat-resistant surface. Plug it into an electrical outlet and you're ready to go. You can adjust the cooking settings using the buttons on the front panel. For instance, to cook khoresh gheymeh, you would typically select the sauté setting to brown the meat and onions first. After adding other ingredients, you'd switch to the pressure cook setting to finish the dish.
Safety Measures
For your safety and to ensure the longevity of your Instant Pot, always check the sealing ring for damage before use and ensure the lid is securely locked in place during cooking. Avoid filling the pot above the maximum fill line. Also, never try to open the lid until all pressure has been released. Invest time in understanding the steam release valve and the quick release method, as improper handling can cause scalding hot steam to be released unintentionally.
Cleaning Your Instant Pot
Unplug your Instant Pot before cleaning it. You can remove the stainless steel inner pot and wash it with warm soapy water or place it in the dishwasher. Wipe the exterior with a damp cloth and allow it to dry fully before reuse. The lid is best cleaned by removing the sealing ring and washing it with soapy water. Always ensure that parts are thoroughly dry before reassembling and storing.
Cooking Khoresh Gheymeh in Your Instant Pot
To prepare Instant Pot khoresh gheymeh, first use the sauté function for browning meat and onions. Then add dried yellow split peas, tomato paste, turmeric, saffron, dried Persian limes, salt, and pepper. Add water and switch to the pressure cook function. Once cooking is complete, use the quick-release method to release the pressure. Serve the dish over basmati rice which can also be prepared in the Instant Pot using the rice function.
Cooking Techniques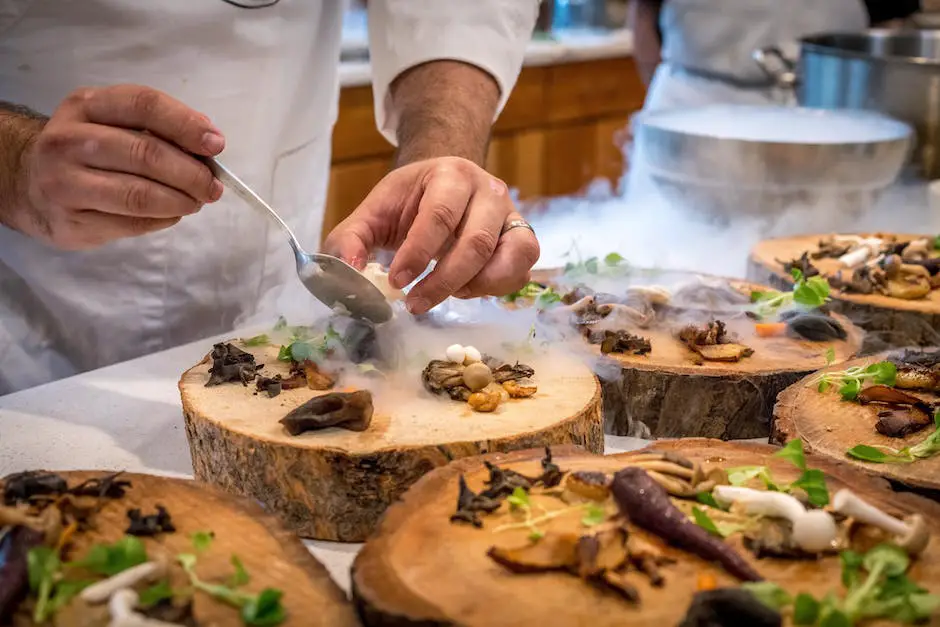 Understanding Cooking Methods
Before diving into cooking Khoresh Gheymeh, it's beneficial to understand several common cooking methods which play a key role in recipe preparation including stewing meat, sautéing onions, as well as soaking and cooking split peas.
Stewing Meat
Stewing involves cooking meat in liquid for an extended duration at a low temperature. This method tenderizes the meat, making it more flavorful and easy to eat. To stew meat, it's first necessary to cut it into uniform pieces to ensure even cooking. Then, sear the meat pieces in a heated pot with a small amount of oil till they are browned on all sides. This helps to lock in the flavor. Once the meat is seared, add enough stock or water to the pot to submerge the meat and allow it to simmer at a low heat till it becomes tender.
Sautéing Onions
Sautéing is a quick and efficient method used to cook food at a relatively high temperature. For sautéing onions, first chop the onions into the desired size. Heat up a pan with some oil or butter, add the chopped onions, and stir them around the pan consistently. The objective is to cook the onions till they're translucent and soft, or till they reach a deep caramel color, depending on the recipe requirement.
Soaking and Cooking Split Peas
Preparing split peas involves two main steps: soaking and cooking. Soaking split peas for several hours before cooking them not only reduces the cooking time but also makes them easier to digest. After soaking the peas, drain the water and rinse them before cooking.
When cooking split peas, add them to a pot with adequate water (around 3 cups of water for every cup of peas is a general rule). Bring the water to a boil. Then, lower the cooking temperature and let it simmer. It typically takes around 45 minutes to 1 hour for the peas to cook.
Assembling the Khoresh Gheymeh
Once you understand these fundamental cooking techniques, you will be able to start making your own Khoresh Gheymeh. Begin by stewing the meat, alongside sautéing the onions in another pot until they achieve a deep golden color. In the meantime, you can soak and then cook the split peas. Once all three components are ready, they are combined and allowed to simmer till the stew thickens to your liking. Flavors will be added using traditional Turkish spices like turmeric and dried limes. The meal is then typically served alongside steamed basmati rice.
Presentation and Serving
Preparation for Presentation
To enhance the visual appeal of Instant Pot Khoresh Gheymeh, make sure to choose a serving dish that complements the dish. A large, shallow bowl or wide-rimmed plate works well. You want to ensure the dish is deep enough to hold the stew but also wide enough to showcase the meal effectively.
Color Contrast
Khoresh Gheymeh is typically a rich, warm yellow-brown color. Serving it on a white or cream-colored dish can enhance the color of the meal and make it visually more appealing.
YOU MAY ALSO LIKE:
Instant Pot Pappardelle Pasta with Mushrooms
Air Fryer Dippy Eggs and Soldiers
Serving and Presentation
To begin, lay down a bed of fluffy, steamed basmati rice on the dish, leaving some space at the edges. You should then ladle the Khoresh Gheymeh onto one side of the plate over the rice, allowing the stew juices to flow over and alongside the rice portion. This offers a tantalizing peek into the savory stew that lies beneath.
Garnishing
Traditionally, Khoresh Gheymeh is garnished with fried potato sticks or fries which add a textural contrast to the rest of the dish. Arrange the fries neatly on top of the stew, not burying it underneath. Adding a sprinkle of fresh chopped parsley or coriander can add a pop of color and enhance the dish's visual appeal.
Accompaniments
Khoresh Gheymeh is often served with Persian flatbread which can either be served in a separate bread basket or alongside the dish. You can also set out small dishes of accompaniments like pickles, pickled garlic, raw onions, or a simple salad.
Arrangement
The dish should be the main attraction of the table arrangement. Make sure it is centrally placed with bread, pickles, and other accompaniments arranged around it in a way that doesn't detract from the Khoresh Gheymeh.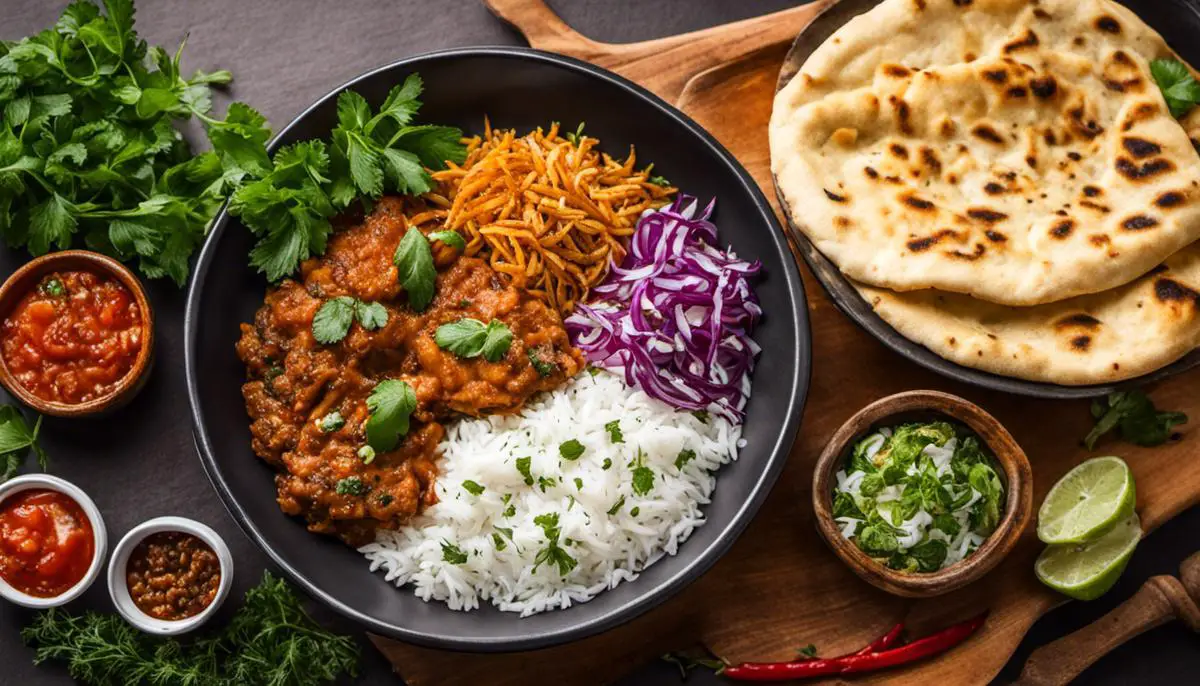 Remember, the key to a visually appealing Khoresh Gheymeh is the combination of contrasting colors, textures, and a neat arrangement. With these tips, you can ensure that your Khoresh Gheymeh is not only delicious but also visually striking.
The aromatic and savory dish, Instant Pot Khoresh Gheymeh, is a canvas of the rich Persian culinary arts, demonstrating the depth of flavors and cooking techniques it involves. Throughout this exploration, we've immersed ourselves in the understanding of its ingredients, learned to maneuver the functionalities of an Instant Pot, and practiced various cooking methods to ensure the perfect outcome.
We've also discussed the significance of its presentation, serving etiquette, and traditional accompaniments which elevate it from a mere dish to a dining experience. As you embark on this cooking journey, remember that the magic of Khoresh Gheymeh lies not just in its taste but in the love and thought you put into its preparation. So, don your apron and bring alive the taste of Persia in your kitchen.
Instant Pot Khoresh Gheymeh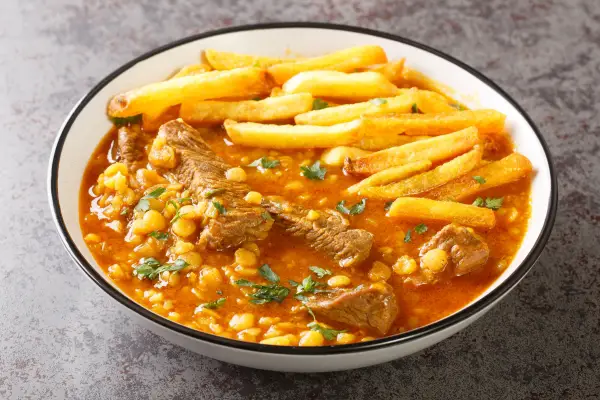 Ingredients
2 pounds (960 g) beef stew meat, cubed

1½ teaspoons salt

1/2 teaspoon freshly ground black pepper

1 teaspoon ground turmeric

2 teaspoons all-purpose flour

2 tablespoons extra-virgin olive oil

1 yellow onion, peeled and chopped

3 cups (750 ml) beef broth

2 tablespoons tomato paste

7 oz (210 g) dried yellow split peas

3-4 dried limes

14 oz (420 ml) canned diced tomatoes

1/2 teaspoon ground cinnamon
Instructions
Mix the meat with 1 teaspoon of salt, ½ teaspoon of pepper, and ½ teaspoon of turmeric in a large bowl. Toss it together until the meat is covered evenly.
Set the bowl aside.
Press the "Sauté" button on your 6 or 8-quart Instant Pot.
Select 'More' with the 'Adjust' button. When the Instant Pot shows 'Hot', add some olive oil.
Add chopped onions, and cook until they start to turn brown. Sprinkle in ½ teaspoon of salt and ½ teaspoon of turmeric.
Cook for 2 to 3 more minutes.
Put the reserved meat into the pot.
Cook until it's browned all over. Pour in some beef broth, and stir with a wooden spoon until any browned bits on the bottom of the pot come off.
Mix in some tomato paste. Add diced tomatoes too.
Get a sharp knife and poke several holes in the dried limes. For a sour lemony flavor, add up to 5 limes.
Add lemon juice later if needed.
Put the lid on the pot, set the vent to seal, and set the timer for 20 minutes. Your stew is ready to cook!
Set your Instant Pot to "Manual" or "Pressure Cook" and cook your stew for 15 minutes.
Allow the pressure to release naturally (without you pressing it) for 10 minutes, then give it a quick release by pressing the button. Press the limes flat with a spoon so they can sink into the stew.
Put the cinnamon in and stir it in. Rinse the split peas, then add them to the stew.
Close the lid and seal it. Finally, if the stew is too thick, stir in 1 cup of water.
Transfer the stew to a serving dish and top it with either shoestring potatoes or fried, chopped russet potatoes. Serve with steamed basmati rice.