The best fried pipe fryums. Get the pipe fryums with us! Enjoy delicious fried pipe fryums made with the best ingredients. They are crispy and fresh.
Introduction to Pipe Fryums
Pipe Fryums are a popular snack in many parts of the world. These crispy and delicious treats are made from rice flour and come in various shapes and sizes. They are easy to make and can be enjoyed as a snack or as part of a meal. Whether you're looking for a quick and easy snack or something to serve at a party,
Pipe Fryums are sure to satisfy your cravings. We'll also explore some creative variations and uses for this tasty snack. So, let's get started!
How to Make the Perfect Pipe Fryums Snack
To make the perfect pipe fryums, you will need a few key ingredients and some basic kitchen equipment. First, you will need a packet of pipe fryums, which can be found in most Indian grocery stores or online. You will also need oil for frying, an air fryer, and a slotted spoon.
To begin, preheat your air fryer to 390F. Spray some oil on the crisp pieces of pipe fryums/bobby.
Put the oil-coated pipe fryums into the air fryer basket.
Fry at 390F for 2 minutes.
Using a slotted spoon, remove the fried pipe fryums from the fryer and place them on a serving plate.
Finally, sprinkle some salt or your favorite seasoning over the fried pipe fryums and serve them hot with your favorite dipping sauce or chutney. Enjoy the crispy and delicious taste of homemade fried pipe fryums!
YOU MAY ALSO LIKE:
Air Fryer Poached Egg on Toast
Tips for Serving and Enjoying this Indian Snack
Once you have made the perfect batch of pipe fryums, it's time to serve and enjoy them. Here are some tips to make the most out of your crispy and delicious snack:
Serve hot: Pipe fryums taste best when they are served hot and fresh out of the frying pan. Make sure to serve them immediately after frying for maximum crispiness.
Pair with dips: They are a great accompaniment to various dips. You can serve them with ketchup, mayonnaise, salsa, or any other dip of your choice.
Add toppings: To take your fried pipe fryums to the next level, you can add toppings like grated cheese, chopped herbs, or even diced vegetables. This will not only enhance the flavor but also add some texture to your snack.
Experiment with seasonings: You can experiment with different seasonings to give your fried pipe fryums a unique taste. Try adding chili powder, garlic powder, or cumin powder to the batter before frying.
Serve as a side dish: Pipe fryums can also be served as a side dish with your favorite meal. They go well with curries, stews, and even salads.
By following these tips, you can make the most out of your fried pipe fryums and enjoy them in various ways.
Variations and Creative Uses of this Indian Snack
Once you've mastered the art of making crispy and delicious fried pipe fryums, it's time to get creative with how you serve them. Here are some variations and creative uses for this tasty snack:
Spicy Fryums: You can kick to your fryums by sprinkling them with chili powder or cayenne pepper before frying.
Cheesy Fryums: Top your fryums with shredded cheese and broil them in the oven until the cheese is melted and bubbly.
Fryum Chaat: Try to mix pipe fryums with chopped onions, tomatoes, cilantro, and tamarind chutney for a delicious Indian street food-inspired snack.
Fryum Salad: Crush up pipe fryums and use them as a crunchy topping for salads.
Fryum Sandwiches: Also, you can use them as a substitute for bread in sandwiches. Fill them with your favorite sandwich ingredients for a unique twist on a classic.
Fryum Nachos: Try to layer pipe fryums with beans, cheese, and salsa for a fun and flavorful twist on nachos.
With these variations and creative uses, you'll never get bored of enjoying your crispy and delicious fried pipe fryums.
The Best Fried Pipe Fryums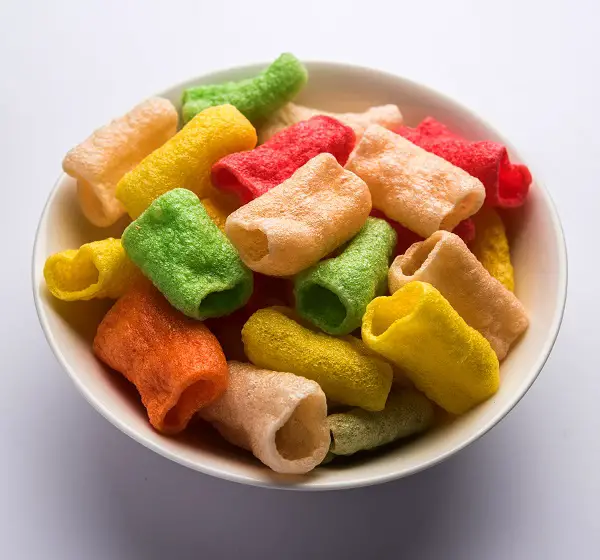 Ingredients
1 cup of dried pipe fryums

cooking oil

Chaat masala (optional)
Instructions
Preheat your air fryer to 390 F (200 C) for 3 minutes.
Drizzle the dried pipe fryums with cooking oil, then transfer them to the air fryer basket.
Fry for 2 minutes.
Serve hot with your favorite spices or dipping sauce. Enjoy!