The best Mexican cochinita pibil. Looking for a delicious and easy-to-make Mexican dish? Look no further than Cochinita Pibil! This savory pork dish is made with a blend of spices and cooked to perfection in your Instant Pot.
Whether you're a seasoned cook or a beginner, this recipe is sure to impress your taste buds and satisfy your hunger. So grab your Instant Pot and let's get cooking!
What is Instant Pot Cochinita Pibil?
Cochinita Pibil is a traditional Mexican dish that originated in the Yucatan Peninsula. It is a slow-cooked pork dish that is marinated in citrus juices and spices, wrapped in banana leaves, and then cooked in an underground pit.
The result is a tender and flavorful meat that is perfect for tacos, burritos, or just served on its own. However, making this dish traditionally can be time-consuming and requires special equipment.
That's where the Instant Pot comes in! With the Instant Pot, you can make this delicious dish in a fraction of the time without sacrificing any of the flavors.
Ingredients Needed for Cochinita Pibil
To make it, you will need a few key ingredients. First and foremost, you will need pork shoulder or butt, which is the main protein in this dish. You will also need achiote paste, which is made from annatto seeds and gives the dish its signature red color and earthy flavor.
Other essential ingredients include 5 lbs of pork shoulder, orange juice without pulp, white vinegar, onion (yellow or white), garlic, achiote, salt, pepper, oregano, cumin, and cinnamon. These ingredients work together to create a flavorful marinade for the pork, which is then cooked in the Instant Pot until it is tender and juicy.
In addition to these core ingredients, you may also want to add some optional extras to customize your dish. For example, you could add sliced onions, bell peppers, or jalapenos to the marinade for extra flavor and texture.
Some people also like to serve their cochinita pibil with pickled red onions or avocado slices on top.
Overall, the key to making great Instant Pot Cochinita Pibil is to use high-quality ingredients and take your time with the preparation process.
With a little bit of patience and attention to detail, you can create a delicious and authentic Mexican dish that will impress your friends and family.
How to Make This Mexican Recipe
To make Cochinita Pibil, start by preparing the marinade. In a blender, combine orange juice, lime juice, garlic, cumin, oregano, salt, pepper, and annatto paste. Blend until smooth.
Next, place the pork shoulder in the Instant Pot and pour the marinade over it. Make sure the pork is fully coated with the marinade. Close the lid and set the Instant Pot to high pressure for 90 minutes.
Once the cooking time is up, let the pressure release naturally for 15 minutes before manually releasing any remaining pressure. Use two forks to shred the pork in the Instant Pot.
Serve the Cochinita Pibil with tortillas, pickled onions, sliced avocado, and chopped cilantro. Enjoy!
Serving Suggestions for this Dish
Once you have made your delicious Cochinita Pibil, it's time to serve it up! There are many ways to enjoy this flavorful dish. Traditionally, it is served with pickled red onions and habanero peppers on top. You can also add some fresh cilantro and a squeeze of lime juice for an extra burst of flavor.
Another popular way to serve cochinita pibil is in tacos. Simply warm up some corn tortillas and fill them with the meat, pickled onions, and any other toppings you desire. You can also serve it over rice or with a side of beans for a complete meal.
If you're feeling adventurous, try using the cochinita pibil as a filling for tamales or empanadas. The possibilities are endless!
No matter how you choose to serve it, Instant Pot Cochinita Pibil is sure to be a crowd-pleaser. So go ahead and impress your friends and family with this authentic Mexican dish.
The Best Mexican Cochinita Pibil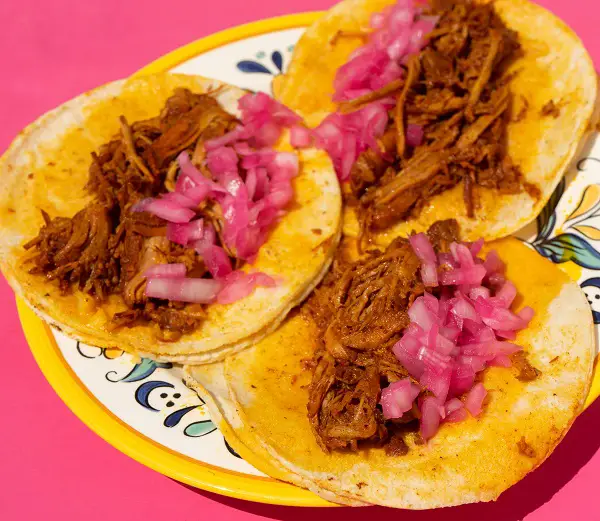 Ingredients
5 pounds (2½ kg) boneless pork shoulder, cut into strips

To Make the Sauce:

2½ cups (625 ml) freshly squeezed orange juice

1½ cups (375 ml) distilled white vinegar

2½ oz (75 g) achiote

1 tablespoon kosher salt

1/2 teaspoon freshly ground black pepper

3 cloves garlic, peeled

1/4 yellow onion, peeled

1 teaspoon dried oregano

1/2 teaspoon ground cumin

1/2 teaspoon ground cinnamon
Instructions
Put the orange juice, vinegar, onion, herbs, and spices in a blender. Blend them until everything is combined really well.
Pour the sauce from the blender into your Instant Pot. Then, put the strips of pork in the pot so that every piece is completely covered in sauce.
Close the pot and lock the lid. Set the machine to cook to high pressure. Set the timer to cook for 60 minutes.
Once the cooking time has been completed, allow for a 30-minute natural pressure release. When the 30-minute NPR has finished, release the remaining pressure and then open the pot.
Take the meat out of the pot and shred it into small pieces. Pour some of the liquid from the pot over the pieces and let them soak in the liquid until you're ready to eat them.
Heat up the corn tortillas.
Serve the chopped-up meat on the tortilla and put some Pickled Red Onion & Habanero Salsa on top.