Slow Cooker Cullen Skink is a famous Scottish dish made from smoked haddock, potatoes, onion, and milk.
What is a Cullen Skink?
A Cullen Skink is a traditional Scottish dish, consisting of smoked haddock, potatoes, and onions. It is often served with milk or cream, and sometimes with a sprinkling of chopped parsley.
The name "Cullen Skink" comes from the fishing village of Cullen in Moray in the northeast of Scotland. The dish was first mentioned in 1877 by Mrs. Beeton in her book "Mrs. Beeton's Book of Household Management".
Is it possible to have Cullen Skink without the potatoes?
The answer to this question is a resounding yes. It is possible to have Cullen Skink without the potatoes, but it would be called something else.
The original dish was made with potatoes, so if you want to make something similar but not the same you would need to find another main ingredient that would take the place of potatoes. For example, you could use bacon or asparagus instead of potatoes.
Is it healthy to eat Cullen Skink on a regular basis?
Cullen Skink is a traditional Scottish soup made from smoked haddock, potatoes, onions, and milk. It is usually served with oatcakes or toast.
This soup was originally made by fishermen who would return home from the sea and wanted to make something warm for their families. Haddock was the most common fish they caught, so they used it in their soup.
The dish became popular in the 1900s when it was served at a restaurant named Cullen's Inn in Stonehaven, Scotland. The innkeeper's son had been nicknamed "Cullen" because he was born on St. Cullin's Day and his father decided to name his inn after him.
The Cullen family still runs the hotel today and serves this dish to guests of their restaurant as well as visitors to Stonehaven who want to try it for themselves.
It is believed that this dish is healthy because of its ingredients but some people don't like eating smoked fish.
Slow Cooker Cullen Skink
You may also like:
Slow Cooker Beef Biryani Recipe
Slow Cooker Indian Rice Pudding Recipe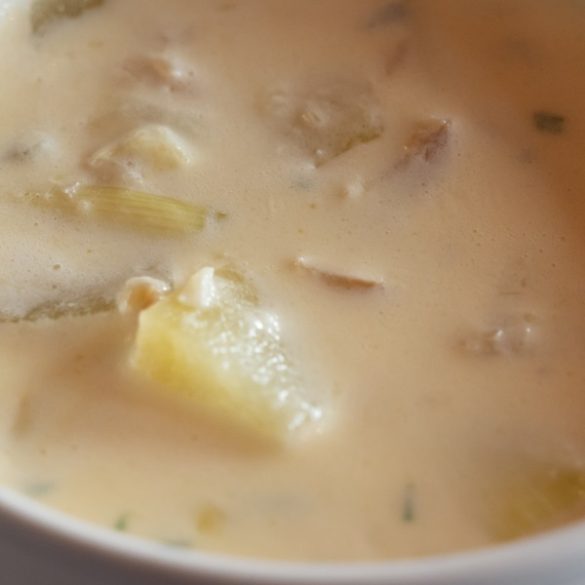 Ingredients
2-3 pieces of haddock fillets

5 medium potatoes, peeled and cubed

2½ cups (625 ml) milk

1/2 leek, sliced

1½ oz (45 g) unsalted butter

1 bay leaf

1 small bunch of parsley

1/4 teaspoon salt and freshly ground black pepper

1/4 cup (60 ml)cream (optional)
Instructions
Melt the butter in a small nonstick skillet over medium heat.
Add leeks and onions and cook, stirring occasionally, for 5 minutes.
Remove fried vegetables from the cooker and transfer them to a slow cooker.
Add the remaining ingredients, except cream. Stir well.
Close the pot and cook on a high-heat setting for 3½-4 hours.
Turn off the slow cooker and open the lid. Discard bay leaf.
Carefully remove cooked haddock and set it aside.
Using a fork, mash cooked potatoes and stir through, then flake the haddock and return to the cooker. Allow it to warm through.
Stir in the cream.
Season to taste with salt and black pepper and mix well.
Ladle to a soup bowls. Serve hot.