Slow cooker yakisoba noodles recipe. Whether you're looking for delicious, flavorful noodles or a new way to use your slow cooker, this recipe is for you. This yakisoba noodles recipe features sautéed vegetables and noodles in a sweet soy sauce base with ginger and honey.
What is a Yakisoba Noodles?
A yakisoba noodles recipe is a type of Japanese dish made with yakisoba noodles, cabbage, carrots, and other ingredients. It is cooked in a pot or slow cooker, then mixed with sauce.
The recipe originated in Japan and has become popular in the United States. this dish is easy to make and requires few ingredients.
The Secret Sauce to Yakisoba Noodles Recipe with Gardein's Crispy Tenders
The secret to making yakisoba noodles is the sauce. It's what sets it apart from other noodle dishes. The sauce for this dish is made with a soy sauce base and mirin, a Japanese cooking wine, which gives it that sweet and salty flavor.
This recipe is simple, but the key to making it taste good is in the preparation of the vegetables. They should be thinly sliced so they cook quickly, and they should be blanched before adding them to the slow cooker so they don't release too much liquid while they are cooking.
Slow Cooker Yakisoba Noodles Recipe
You may also like:
Instant Pot Buckwheat with Mushrooms
Air Fryer Mexican Street Corn on the Cob
Slow Cooker Vegetable Oxtail Soup Recipe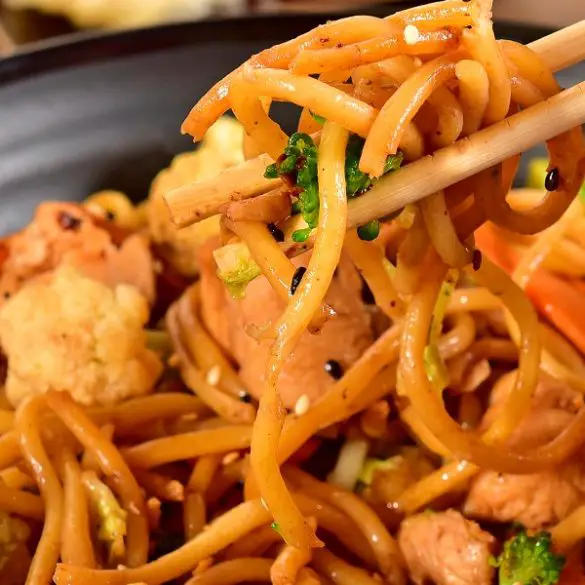 Ingredients
1 pound (480 g) boneless and skinless chicken breasts

salt and freshly ground black pepper, to taste

2 cups uncooked lo mein noodles

2 cups baby Bock Choy, washed and sliced

1 red bell pepper, cored, seeded, and thinly sliced

1/2 cup julienned carrots

2 tablespoons cornstarch plus 2 tablespoons water

To Make the Sauce:

2/3 cup (160 ml)low-sodium chicken broth

3 tablespoons oyster sauce

2 tablespoons low-sodium soy sauce

3 teaspoons hoisin sauce

2 teaspoons honey

2 garlic cloves, peeled and minced

1/2 tablespoon minced fresh ginger

1/2 teaspoon red chili flakes

sesame seeds, for garnish
Instructions
Grease 4-5-quart (4-5 L) slow cooker with nonstick cooking spray.
Place the chicken breasts in the greased cooker and season them with salt and black pepper.
In a medium mixing bowl, combine all sauce ingredients. Whisk well, then pour the mixture over seasoned chicken.
Cover the pot and cook on a low-heat setting for 3-4 hours, stirring once during the cooking time.
Meanwhile, cook noodles according to the package directions. Drain and set them aside.
Remove cooked chicken from the pot and transfer it to a cutting board. Cut into cubes.
Return cubed chicken to the slow cooker along with bock choy, bell peppers, and carrots. Toss well.
To thicken the sauce, in a small bowl, combine cornstarch and water. Whisk until cornstarch is completely dissolved. Stir the cornstarch mixture into the slow cooker. Cook on a high-heat setting for a further 20-30 minutes.
Stir well before serving.
Garnish with sesame seeds. Serve hot.