Slow cooker vegetable oxtail soup recipe. Oxtail is a tough cut of meat that falls off the bone when simmered for hours in a slow cooker. This thick and rich soup will be your new favorite winter supper.
Oxtail is a cut of meat that has a lot of collagen, which makes it tough and hard to chew. However, when simmered for hours in a slow cooker, the collagen breaks down and the meat falls off the bone. The soup is thick because of the gelatin from cooking off the bones.
This is a perfect soup to warm you from the inside out. This hearty, warming, and delicious soup is a great way to prepare for the colder weather. With ingredients like carrots, onions, potatoes, and oxtails this soup will make you feel right at home in front of a cozy fire.
What Can You Pair With This Easy Slow Cooker Vegetable Oxtail Recipe
This easy slow cooker vegetable oxtail recipe is a perfect meal for a family dinner or a party. Pair it with some of the following recipes:
– Vegetable, beef, and chicken curry
Everything You Need to Know About Making the Perfectly Rich and Tasty Vegetable Oxtail Soup
The purpose of this article is to provide the reader with some tips on how to make the perfect slow cooker vegetable oxtail soup recipe. These tips are meant to help those who have never made this soup before.
Oxtail Soup: everything you need to know about making a perfectly rich and tasty soup Oxtails is a tough cut of meat, especially when cooked for a long time. The flavor can vary depending on what type of liquid you cook them in. Some people like to soak the oxtail overnight and then cook it in milk or water with lots of vegetables, herbs, and spices, but that's not necessary. Just put the oxtail in a crock-pot or slow cooker with beef broth, onion, potatoes, carrots, and garlic and cook it for 6 to 8 hours.
Slow Cooker Vegetable Oxtail Soup Recipe
You may also like:
Instant Pot Mexican Rice Recipe
Instant Pot Vegan Sloppy Joes recipe
Instant Pot Broccoli and Cheese Soup Recipe
Air Fryer Golden Pineapple Rings
Air Fryer Cinnamon-Sugar Donuts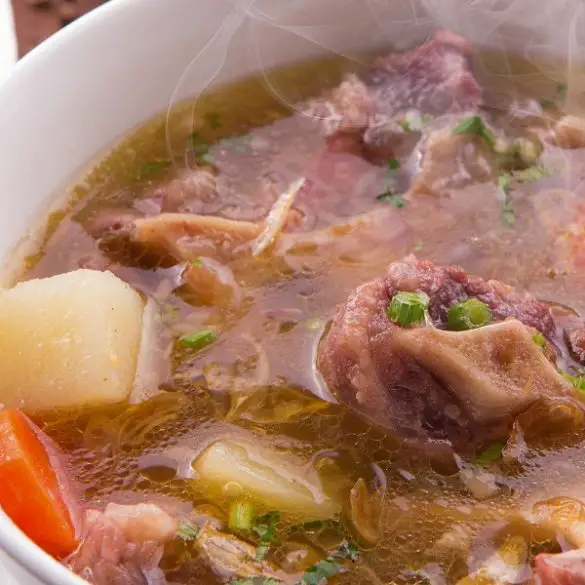 Ingredients
1½​ quarts (1½​ L) of beef broth

1 pound oxtails (480 g), sliced

2 medium potatoes, peeled and sliced

2 medium carrots, peeled and chunked

1 teaspoon dried thyme leaves

1 bay leaf

salt and freshly ground black pepper, to taste
Instructions
In a 6-quart (6 L) slow cooker, combine all ingredients, except salt and black pepper.
Close the pot and cook on a low-heat setting for 6-8 hours.
Turn off the slow cooker and open the lid.
Discard bay leaf.
 Season the soup with salt and black pepper to taste.
 lad;e it to soup bowls. Serve hot.