Instant pot vegan sloppy joes recipe. These vegan sloppy joes are filled with lots of plant-based protein and hearty, healthy ingredients. They make a satisfying meal or filling snack.
The vegan sloppy joes recipes are perfect for a cold winter day. The meat substitute makes them hearty and satisfying. They are made with pantry staples, so they can be ready in just minutes!
The vegan sloppy joes recipe is a quick and easy meal that your whole family will love. It is perfect for any night of the week, with only 15 minutes of prep time!
The Instant Pot, a popular cooking appliance among millennials and those who want to cook without the hassle of dirtying their kitchen, has lured all types of foodies with its promise of speedy, healthy meals.
This is why it shouldn't come as much of a surprise that vegan sloppy joes are among the most-cooked dishes in the Instant Pot community.
The dish is an easy way to get your fix for comfort food but with healthier, plant-based ingredients like beans and lentils. The dish also goes from stovetop to oven to table in around 30 minutes and can be frozen for later use when you're strapped for time or money.
What are the health benefits of using a pressure cooker?
Pressure cookers are a staple in many kitchens. They help to cook food faster and can be used for more than just soups, stews, and beans.
Pressure cookers have many benefits that make them worth the investment. They can save time, energy, and money because they allow you to prepare food faster than a traditional pot or pan. Pressure cooking also helps to preserve nutrients by retaining vitamins and minerals in the food.
What are some of the benefits of using an IP to cook vegan sloppy joes?
One of the benefits of using an IP to cook vegan sloppy joes is that it allows you to cook a large batch at once. This is great for families or people who have a lot of mouths to feed.
Another benefit is that it can help you save time in the kitchen. It takes less time than cooking on the stovetop, and it's much easier than using a crock pot.
It also makes cleaning up after cooking much easier, as there are no pots and pans to wash by hand.
Instant Pot Vegan Sloppy Joes Recipe
You may also like:
Air Fryer Golden Pineapple Rings
Instant Pot Broccoli and Cheese Soup Recipe
Air Fryer Cinnamon-Sugar Donuts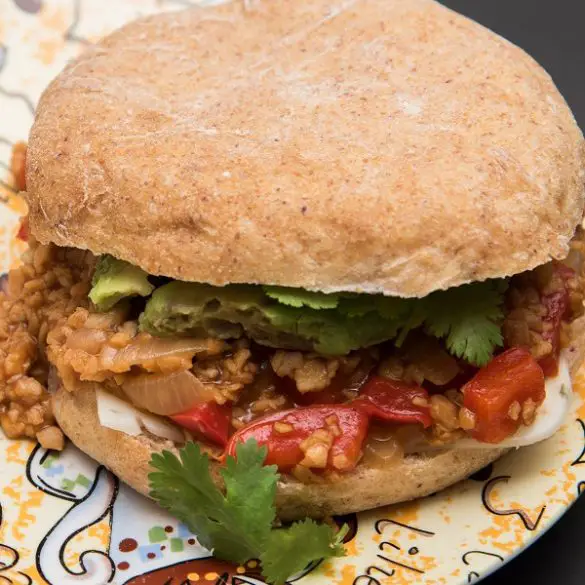 Ingredients
1 cup brown (green) lentils

1 cup of red lentils

3 cups (750 ml) of water

28 oz (840 ml) canned crushed tomatoes

3 tablespoons tomato paste

2 tablespoons vegan Worchestershire sauce

1 teaspoon salt

1 teaspoon ground cumin

1 teaspoon dried oregano

1 large yellow onion, peeled and chopped

1 red bell pepper, cored and chopped

1 carrot, peeled and chopped

1 tablespoon olive oil

2 tablespoons apple cider vinegar
Instructions
Heat the olive oil in an electric instant pot turned to saute mode.
Add onion, carrots, and bell pepper and saute, stirring occasionally, for 3 minutes.
Stir in cumin and dried oregano. Continue cooking for 1 minute.
Add tomato paste and stir well to coat. Cook for a further 1 minute.
Stir in the remaining ingredients.
Close the pot and lock the lid. Set the machine to cook to high pressure. Set the timer to cook for 13 minutes.
Using the Natural Release method, bring pressure to normal. Carefully unlock and open the lid.
Stir well before serving. Serve over toasted buns. Enjoy!