Instant pot broccoli and cheese soup recipe. Healthy broccoli, onion and cheese soup made in the Instant Pot!
Did you know that broccoli is an excellent source of vitamin C?
Broccoli is a popular green vegetable that is used in many dishes. It is also a great source of vitamin C and minerals.
In this section, we will look at the benefits of broccoli, what it can do for your body and how to cook the perfect broccoli soup recipe.
The Health Benefits of Broccoli & the Easy Recipe for Instant Pot Broccoli Cheese Soup
Broccoli is a vegetable that is rich in vitamin C, vitamin K, and fiber. It also contains sulforaphane, which is a powerful antioxidant that can help fight inflammation and protect against cancer.
The Best Broccoli and Cheese Soup Recipe
In this recipe, I will teach you how to make a delicious and healthy broccoli and cheese soup in the instant pot. It is very easy to make and it is also budget-friendly.
Ingredients:
-1/2 head of broccoli, chopped into small pieces
-2 tablespoons of butter
-1 cup yellow onion, diced
-2 cloves garlic minced
-4 cups chicken broth or vegetable broth (I used chicken)
-1 cup grated carrots
-1/4 cup cold water
-1/4 teaspoon ground black pepper
-2 cups heavy cream or whole milk
-2 cups grated sharp cheddar cheese
Instructions:1) Pour the water and 2 of the cups of broth into the Instant Pot. Add broccoli, salt, and pepper. Close lid. Set valve to sealing for high pressure. Cook for 7 minutes.
2) Use the quick release valve to release the pressure.
3) Remove lid, add in heavy cream and cheese, stirring well to combine everything until the sauce is thickened and combined, about 3 minutes.
4) Add in carrots , stirring gently so that they don't fall apart into pieces until they are wilted and cooked through, about 3 minutes.
5) Pour the pot into a serving bowl.
Instant Pot Broccoli and Cheese Soup Recipe
You may also like:
Air Fryer Cinnamon-Sugar Donuts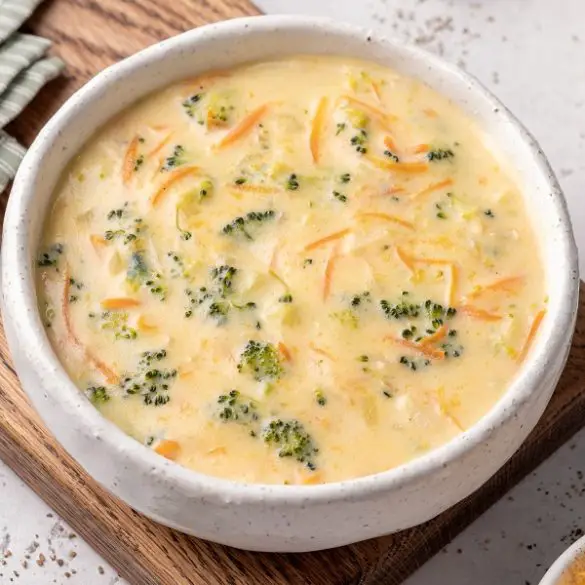 Ingredients
2 tablespoons unsalted butter

1 cup diced yellow onion

2 cloves garlic, peeled and minced

4 cups (1 L) vegetable broth

4 cups broccoli florets, cut into bite-size

1 cup grated carrots

1/4 teaspoon salt

1/4 teaspoon freshly ground black pepper

1/8 teaspoon red pepper flakes

1/4 cup cornstarch

2 cups (500 ml) half-and-half

2 cups grated Cheddar cheese
Instructions
Melt the butter in an electric instant pot turned to saute mode. Add onions and cook, occasionally stirring, until the onion is tender, for about 3 minutes.
Stir in minced garlic and continue cooking for a further 30 seconds.
Pour into the vegetable broth, then stir in the broccoli, carrots, salt, black pepper, and red pepper flakes.
Close the pot and lock the lid. Set the machine to cook to high pressure. set the timer to cook for 1 minute.
Using the Quick Release method, bring pressure to normal. Carefully unlock and open the lid.
In a small mixing bowl, combine cornstarch and cold water. Mix until smooth.
Switch the cooker to saute mode. Slowly pour the cornstarch mixture into the pot. Stirring constantly, bring the soup to a boil.
Turn off the instant pot. Stir in the half-and-half. Add grated cheese and mix until it melts.
Serve hot.