Instant pot egg biryani. Instant Pot Egg Biryani is a delicious mix of fluffy Basmati rice cooked with spices and boiled eggs spiced up with extra flavor. Making this yummy biryani in a pressure cooker is fast – it takes only half the time it would normally take.
What is Biryani?
Biryani is a delicious dish made with fragrant basmati rice, vegetables, and your favorite type of protein, all cooked together in one pot.
Making biryani can take a lot of time. It involves several steps to prepare.
Marinate your protein in yogurt with a mixture of green chilies, ginger, and garlic. Add some salt and then put it in the fridge to chill overnight or for a few hours.
Soak the rinsed basmati rice in water for about half an hour. Cook it until it's mostly done, and then set it aside.
Heat a wok over medium heat and add some ghee. Fry the onions until they are nice and crunchy, then remove them from the wok and set them aside. Next, add some whole spices such as pepper, cloves, cardamom pods, cinnamon stick, and bay leaves to the wok. Let them sizzle for around 30 seconds.
YOU MAY ALSO LIKE:
Instant Pot Roasted Cauliflower Soup
Instant Pot Braised Lamb Knuckle
Instant Pot Farfalle Pasta with Sausages
Add tomatoes to the wok. When it's soft, put in the marinated protein. Then add the nearly cooked rice. Cover it all with fried onions, and top with a cup of chopped coriander and mint leaves.
Cook your food on low heat and be patient. Eventually, a delicious meal will appear!
Biryanis are worth it! They're so tasty, with lots of spices, and they fill you up. But if you want to make one for a weeknight dinner, you need to find a simpler way than the traditional method.
How to Make Egg Biryani?
You can cook delicious egg biryani in an Instant Pot in two simple steps.
Cook the eggs with the biryani in the same pot. Take out the eggs, peel off their shells, then fry them. Put them back into the biryani.
Cook the eggs in a separate pan. Put some oil in the pan and sauté the peeled eggs. Take the eggs out and set them aside. Once the biryani is ready, carefully fold the eggs in.
I like the second way best. It takes me less time, about 5 minutes, and the eggs will be ready when the biryani is. All I have to do is mix them in, and I can eat right away!
Let's start by discussing the key part that makes this recipe so great: Happy Eggs! They add something special to the dish and make it really tasty.
For families that eat a lot of eggs, it's important to make sure they are organic and free-range. That means they come from chickens that have been allowed to roam and feed freely, rather than being confined in cramped cages. It ensures that the eggs are of the highest quality, which is why we choose them.
Eggs that come from hens that have the chance to roam freely and eat lots of green plants and grains are better for you. They contain more nutrients than other eggs.
Eggs that come from hens that are free and eat plants and grains are very nutritious! That means they are very good for you.
Instant Pot Egg Biryani
Instant Pot Egg Biryani is a flavourful one-pot meal consisting of Basmati rice cooked in spices and boiled eggs. Pressure-cooking this dish cuts the cooking time in half, making it a fast and easy meal that can be enjoyed by the whole family.
1) Instant Pot Egg Biryani combines Basmati rice with boiled eggs;
2) Pressure cooking reduces cooking time;
3) An easy, flavorsome one-pot meal.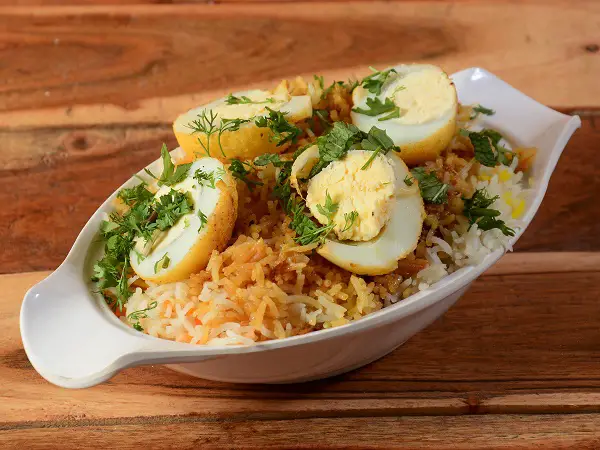 Ingredients
6-7 Happy Eggs

1 teaspoon oil

a pinch of garam masala

salt, to taste

a pinch of red chili powder

To Make Biryani:

2 cups basmati rice, soaked in water for 20-30 minutes

1/4 cup (60 ml) ghee

4 whole cloves

6-8 whole black peppercorns

2 green cardamom

1 Indian bay leaf

1-inch (2.5 cm) piece of cinnamon stick

2 cups chopped yellow onions

4 garlic cloves, peeled and crushed into a paste

2 cups chopped tomatoes

2 green chilies, cut lengthwise

1 teaspoon red chili powder

salt, to taste

1/4 cup (60 ml) yogurt

1/4 cup (60 ml) coconut milk

2 teaspoons garam masala

1 tablespoon ghee

finely chopped cilantro
Instructions
To Make the Eggs:
Add water to the Instant Pot. Put the trivet inside it, then carefully put Happy Eggs on top of the trivet.
Close the lid of the pressure cooker. Select the "pressure cook" setting. Set the pressure to "high" and set the time to 5 minutes. Make sure the vent is set to "sealing".
Wait five minutes after the cooking is finished. Then, open the Instant Pot and take the eggs out. Put them in a bowl of cold water, and let them stay there for five more minutes. To make peeling easier, crack the bottom of the egg first.
Split the eggs in half lengthwise. Heat a teaspoon of oil in a non-stick pan over medium heat. Add the eggs. Sprinkle a mix of garam masala, salt, and chili powder on top. Fry them until both sides are golden brown. Take them out of the pan and set them aside.
To Make the Rice Biryani:
Add oil to the steel insert inside the Instant Pot. Press the Sauté button. Then press the Adjust button until the selection is on "Normal".
When the display indicates "Hot", add peppercorns, cloves, cinnamon, cardamom, and bay leaves. Wait until you hear them sizzle (10-15 seconds) then add onions.
Fry the onions until they become soft and see-through. Then add the garlic and cook it with the onions for about a minute.
Fry the tomatoes until they are nice and soft. Then add the green peppers, red pepper powder, and some salt. Mix it all together.
Mix the yogurt until it's smooth. Sprinkle in the garam masala and if you're using it, stir in the coconut milk too. Pour this mixture into the Instant Pot. Do a taste test. The salt should have a slightly stronger flavor.
Drain the water from the soaked rice. Add the rice and enough water (about 1 and 1/4 cups) to cover the rice.
Press the "Warm / Cancel" button. Select "Pressure Cook". Set the time to 5 minutes. Set the pressure selection to low. Put the lid on the Instant Pot and lock it. Make sure the vent is in the sealing position.
Once the cooking is done, press the Warm/Cancel button on the Instant Pot. Then, release the pressure carefully. Open the lid and release the steam. Add one tablespoon of butter-like oil and wait for five minutes.
Add the boiled eggs with the spices and mix them in with the rice. Put a lid on the pan and let the flavors blend together for 5 minutes.
Top off the dish with chopped coriander and mix it gently before you serve it.