Instant pot braised lamb knuckle. Treat your taste buds to a delicious feast with this Braised Lamb Knuckle recipe. A perfect blend of succulent, tender lamb knuckle and aromatic herbs, this meal is sure to become a go-to for any special occasion. Enjoy this recipe as a meal on its own or mix in some couscous for a complete one-pot meal.
What is Lamb Knuckle?
Lamb knuckle is a cut of meat that's not as popular as other cuts of lamb even though it has a lot of flavors. It's made up of meat, bones, and cartilage. When it's cooked for hours, the cartilage turns into yummy jelly.
The Benefits of Making Instant Pot Braised Lamb Knuckle
Making braised lamb knuckles in an Instant Pot is a great way to create a delicious and nutritious meal in no time. With the help of pressure cooking, you can easily prepare a quick and easy meal that will satisfy your taste buds. Not only is it quick and easy to make, but it also offers many health benefits due to the high-quality ingredients used.
Pressure cooking with an Instant Pot allows for faster cooking times while preserving the flavor and nutrients of the ingredients. This makes it an ideal choice for meal prepping, as you can quickly prepare large batches of meals that can be stored in the refrigerator or freezer for later use.
Why You Will Love This Dish
This recipe will make you love it! It creates a dish that looks and tastes like it came from a fancy restaurant and all without spending hours in the kitchen. Serve it with a glass of your favorite wine and you've got a delicious, restaurant-quality meal.
This recipe is easy to make. A pressure cooker can help you prepare it quickly, reducing cooking time by up to half.
Incredible tastes! Red wine helps make a yummy and complex flavor, plus an amazing smell.
You May Also Like:
Instant Pot Split Pea Ham Soup
How To Prepare the Braised Lamb Knuckle
Remove any extra fat from the lamb shanks.
Press the sauté button on the Instant Pot. Wait until it's hot, then add olive oil and two lamb shanks. Cook them for about 7 to 10 minutes on each side.
Take them out and put them on a plate. To get the best results, cook two shanks at once – that way they can fit in the pot.
Put the meat aside, then add 1 chopped onion to the same pot. Cook it for 5-7 minutes until the onion is soft and slightly brown.
Add 2 chopped carrots, 2 chopped celery pieces, and 3 garlic cloves. Cook for 2-3 minutes.
Mix in 2 tablespoons of tomato paste and cook for a further 2 minutes.
Add 2 cups of red wine to the pot. Let it cook for around 10 minutes until the liquid reduces and the alcohol has been cooked off.
Add 1 cup of beef broth, 1 teaspoon of dried thyme, 1 teaspoon of dried oregano, 1 teaspoon of salt, and 2 bay leaves to the pot. Stir it all together.
Add the lamb shanks that have already been seared. Place them in the liquid, making sure they are almost completely covered.
Close the lid of the pressure cooker and set it to Manual High Pressure. Cook for 50 minutes. After it's done, let the pressure release naturally for 10 minutes, then carefully open the lid.
Take the meat off the pan, put it onto a plate, wrap it in some foil, and put it aside.
Press the sauté button one more time and let the sauce simmer gently.
Mix 1 tablespoon of cornstarch with 1/4 (60 ml) cup of water. Add it to the sauce slowly until it reaches the thickness you want. Allow the sauce to cook for a few minutes until it gets thicker.
How to Serve Braised Lamb Knuckle
My favorite way to have this meal is with Instant Pot Mashed Potatoes and some veggies. Mediterranean Roasted Vegetables, Green Bean Almondine, and Roasted Broccoli with Parmesan are yummy sides.
Instant Pot Braised Lamb Knuckle
Instant pot braised lamb knuckle is a mouthwatering and simple recipe that involves cooking the lamb knuckle in a flavorful mixture of vegetables and herbs along with wine and stock in an instant pot. The pressure cooker helps create a tender and juicy finish to the dish.
1) Lamb knuckle is cooked with vegetables, herbs, wine, and stock in an instant pot;
2) Pressure cooker creates a tender and juicy finish to the dish;
3) Simple, flavorful, and delicious recipe.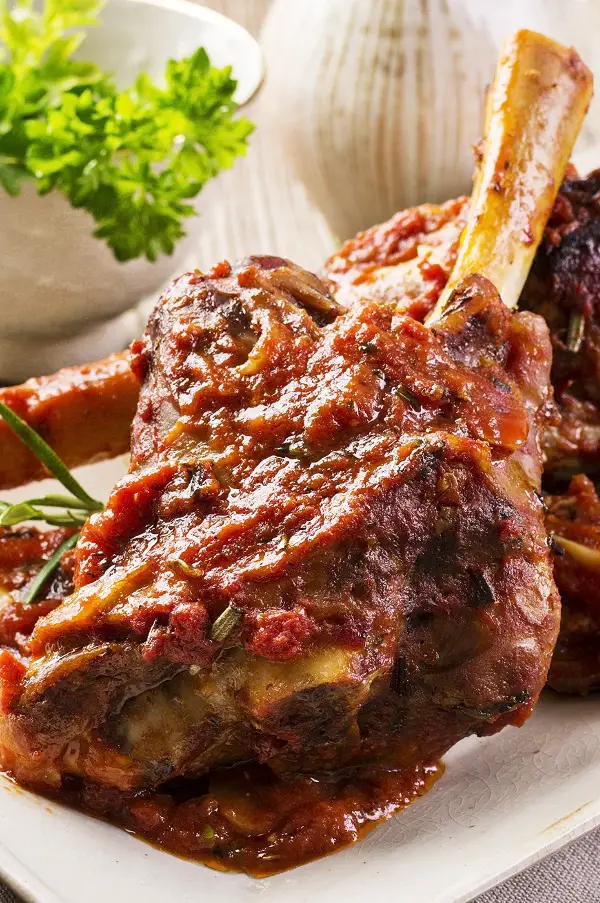 Ingredients
2 tablespoons olive oil

4 lamb shanks, fat trimmed

1 yellow onion, peeled and chopped

2 large carrots, peeled and chopped

2 celery ribs, chopped

3 cloves garlic, peeled and smashed

2 tablespoons tomato paste

2 cups (500 ml) dry red wine

1 cup (250 ml) beef broth

1 teaspoon dried thyme

1 teaspoon dried oregano

2 bay leaves

1 tablespoon cornstarch
Instructions
Heat the oil in an electric instant pot turned to saute mode.
Add lamb shanks and sear them for about 7-10 minutes on all sides. remove the seared lamb from the cooker and transfer it to a large plate. Set it aside.
Add chopped onion to the same pot. Cook, stirring occasionally, for 5-7 minutes, or until the onion softened and caramelized.
Stir in the carrots, celery, and garlic. Continue cooking for a further 2-3 minutes.
Add the tomato paste and cook for additional 2 minutes.
Pour in the red wine and allow it to simmer for about minutes. Pour in the beef broth, then add dried thyme, oregano, salt, and bay leaves. Stir well.
Return the lamb to the cooker. Try to submerge them in the liquid so they are almost totally covered.
Close the pot and lock the lid. Set the machine to cook to high pressure. Set the timer to cook for 50 minutes.
Using the Natural Release method, bring pressure to normal. Carefully unlock and open the lid.
Remove cooked lamb and transfer it to a large plate, cover with foil, and set it aside.
Switch the cooker to saute mode. let the sauce simmer.
In a small mixing bowl, combine the cornstarch and 1/4 cup (60 ml) water. Stir into the sauce until the desired consistency.
Allow the sauce to simmer for 2-3 minutes.
Pour the sauce over lamb knuckles. Serve hot.