Instant pot creamy asparagus risotto recipe. Creamy and delicious risotto cooked in your Instant Pot that is sure to please the whole family. This quick recipe is easy to make for a weeknight dinner.
Risotto can be a tricky dish to master, but this recipe for Instant Pot Risotto is foolproof. It's bursting with the flavors of white wine, cream, and Parmesan cheese – a favorite in the European pantheon of foods.
Asparagus is a delicious green vegetable that pairs well with the rice in risotto. It's also a good source of fiber, Vitamin A, and folic acid. Risotto is a traditional Italian dish made by sautéing rice with butter and wine or stock until it releases its starch which is then cooked with broth, Parmesan cheese, and other ingredients.
The main ingredient in risotto is arborio rice which is grown in Italy and becomes plump, sticky, and cream when it gets hot. Arborio rice has a slightly nutty flavor so we recommend using it to make this dish. The addition of butter and Parmesan cheese make this a savory risotto.
Instant Pot Creamy Asparagus Risotto Recipe
You may also like:
Instant Pot Creamy Mushroom Spaghetti Recipe
Slow Cooker Kielbasa Bites Recipe
Air Fryer Crispy Baby Corn Recipe
Instant Pot Tuscan Tomato Chickpea Soup Recipe
Slow Cooker Red Lentil and Vegetable Soup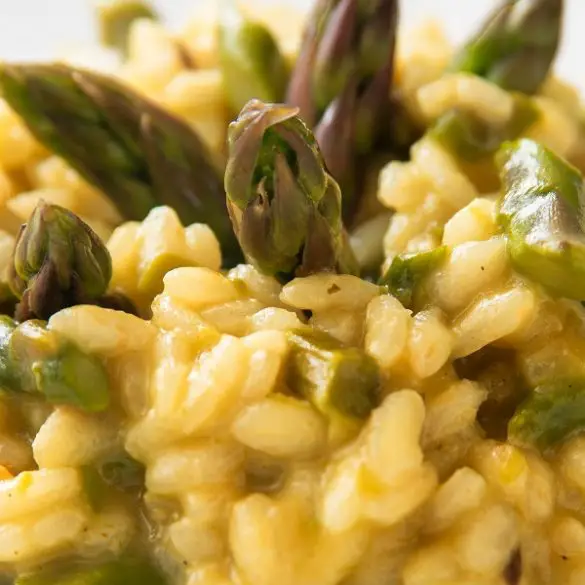 Ingredients
3 tablespoons unsalted butter

2 shallots, finely chopped

2 cloves garlic, peeled and minced

1 pound (480 g) asparagus spears, trimmed and cut into pieces

1/2 cup (125 ml) dry white wine

1½ cups Arborio rice

3½ cups (875 ml) chicken broth

1/2 cup (125 ml) heavy cream

1/2 teaspoon salt

1/4 teaspoon freshly ground black pepper

1/4 teaspoon dried thyme

1/2 cup shredded Parmesan cheese

2 tablespoons freshly squeezed lemon juice
Instructions
Melt the butter in an electric instant pot turned to saute mode.
Add shallots and garlic. Cook, stirring occasionally, for 2 minutes. Using a slotted spoon, remove cooked shallots and garlic and set them aside.
Add asparagus to hot butter and saute, stirring occasionally, for 2 minutes.  Remove cooked asparagus and transfer them to a plate. Set it aside.
Return the shallots and garlic to the cooker and pour in dry white wine. Mix well. Using a wooden spoon, scrape the bottom of the pot to remove any browned bits.
Stir in Arborio rice and saute in the wine for 2½ minutes, stirring and scraping the bottom of the cooker.
Pour in the chicken broth, heavy cream, salt, black pepper, and thyme.
Close the pot and lock the lid. Set the machine to cook at high pressure. Set the timer to cook for 6 minutes.
Using the Quick Release method, bring pressure to normal. carefully unlock and open the lid. Stir in shredded cheese and lemon juice. Mix until cheese is melted.
Mix in cooked asparagus. Allow the risotto to thicken in the pot, uncovered, for about 3-4 minutes.
Serve hot.