Air fryer potato wedges with sweet chili sauce. Perfectly air-fried potato wedges are ready to serve in just over 30 minutes. They are so easy and tasty. You won't regret trying them out!
Air fryers are fantastic devices that allow you to easily make delicious fried foods, like potato wedges. This recipe is sure to be a top choice for you because it's so simple and perfect. Choose a variety of potatoes such as russet potatoes or Yukon Golds. Fingernails are also great options but don't hold up as well during cooking.
To cut a potato in wedges, start by slicing the potato in half lengthwise. Next, take the cut side and slice it again to create quarters. One quarter at a time, cut around the outside of the potato. Next, fold each edge in towards the center so that you create four total sides to your quarter. Do this with all eight quarters until they're all ready to go into an air fryer!
How To Season Potato Wedges
These potato wedges are seasoned with paprika, parsley, chili, salt, and black pepper. Use your favorite spices–it's your potato wedges! By adding a little spice, or by adding some herbs to the recipe, you're only limited to what's already in your pantry.
How to Prepare a Potato Wedges with an Air Fryer
Air fryers are a great way to cook potatoes. You can use them for making potato wedges, fries, and even hash browns. However, there are some things you should keep in mind before you start cooking with an air fryer.
Air Fryer Preparation
– Wash the potatoes thoroughly before cutting them into wedges.
– Pat dry the wedges with paper towels.
– If you want to keep your fries crispy, add a teaspoon of oil and coat each side of the wedges with it before cooking them in the air fryer.
What is Sweet Chili Sauce?
Spicy, thick, and sweet sauce that's easy to make. It has a delicious garlic kick but still goes well with many dishes. The sauce in this post features lots of chili and garlic. There are a lot of images showing the sauce with chunks of both ingredients. This is a classic and popular food item in many Asian cuisines like Thai, Vietnamese, and Japanese cuisine.
How to Make This Sauce for Potato Wedges?
Sweet Chili Sauce is easy to make. It comes together in just 10 minutes and can be stored in the fridge for up to 2 weeks. Making your own fresh chili paste takes a lot of time, but it's worth it. If you can spare the time, pickling the red chili for this recipe will make it easier and quicker to do so.
Making your own Thai chili sauce is easy with ingredients found at the store, and saves a lot of money too. Sambal oelek is a popular red chili sauce found in kitchens across the world. It's great for curries or Asian food, and it can be stored in any refrigerator. For the most authentic taste, use the regular sambal oelek; however, if that's not available, you can use the garlic version as well. If you're looking to cut down the amount of garlic cloves in your sauce, just halve the amount that's in there.
For another delicious addition, I always like to add some soy sauce or fish sauce. Fish sauce can give a more authentic flavor and you can add it to the amount you wish to take up.
Can I Make This Sauce Gluten-Free?
There are only two ingredients with gluten in this sweet chili sauce: soy sauce and sugar. Soy sauce is the only ingredient with gluten, so if you want to make this recipe gluten-free, you have to substitute it with tamari sauce instead.
Air Fryer Potato Wedges with Sweet Chili Sauce
You may also like:
Instant Pot Creamy Asparagus Risotto Recipe
Instant Pot Creamy Mushroom Spaghetti Recipe
Slow Cooker Kielbasa Bites Recipe
Air Fryer Crispy Baby Corn Recipe
Instant Pot Tuscan Tomato Chickpea Soup Recipe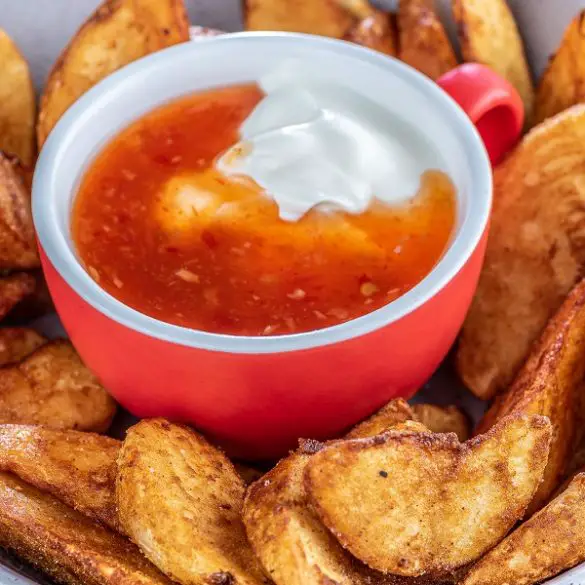 Ingredients
Potato Wedges:

2 medium russet potatoes

1½ tablespoons olive oil

1/2 teaspoon paprika

1/2 teaspoon parsley flakes

1/2 teaspoon chili powder

1/2 teaspoon salt

1/8 teaspoon freshly ground black pepper

To Make the Sauce:

1/2 cup (125 ml) rice vinegar

3/4 cup (180 ml) water

1/2 cup plus 2 tablespoons granulated sugar

5 garlic cloves, peeled and finely chopped

1 tablespoon gluten-free soy sauce

1/2 teaspoon cayenne pepper

2½ tablespoons sambal oelek

4 teaspoons cornflour

2 tablespoons water

Sour Cream (optional)
Instructions
To Make Potato Wedges: Preheat your air fryer to 400º F (200º C). Cut each potato into wedges. In a large mixing bowl, combine potato wedges, olive oil, paprika, parsley, chili powder, salt, and black pepper. Mix well. Working in batches, place seasoned wedges in the air fryer basket. Fry at 400º F (200º C) for 10 minutes. Using tongs, flip wedges and continue cooking for a further 5 minutes. Remove fried potatoes from the fryer and transfer them to a large plate. Repeat with the remaining wedges. To Make the Sauce: In a large nonstick pan, combine the vinegar, water, sugar, garlic, soy sauce, and cayenne pepper. Cook over medium heat, stirring, to dissolve the sugar, then increase heat to medium-high and bring the mixture to a boil. Let it simmer for 2 minutes. Stir in sambal oelek. Continue cooking for a few minutes until it's slightly thickened. In a small bowl, combine cornstarch and 2 tablespoons of water. Mix into a smooth slurry, then stir the cornstarch mixture into the sauce.
Make sure to stir the sauce frequently and slowly simmer it for a while longer. It should reach your desired thickness in 2-5 minutes.
Note that sauces thicken as they cool and cold sauces may require some extra water. This is true for both Clear Jel or store-bought products. The sauce will thicken more when it's a little cooler.
Pour the sauce into jars that are suitable for storing food. Set it aside and cool to room temperature.
Serve with fried potato wedges (for non-vegetarian, I added a dollop of sour cream)