Air fryer sloppy joe loaded potatoes recipe. Here's an easy homemade sloppy-joe recipe, no ketchup needed. You can use it to make these mouthwatering baked loaded air-fryer potatoes and you'll never miss the buns in this gluten-free meal.  
What is an air fryer sloppy joe?
An air fryer sloppy joe is a dish that can be cooked in an air fryer. It is made of ground beef, tomato sauce, and onion. It is typically served on a bun with ketchup, mustard, and pickles.
A good example of an air fryer sloppy joe recipe would be:
– 1/4 cup of water
– 2 tbsp brown sugar
– 1/2 tsp salt
– 1 tbsp vinegar
– 1/2 tsp Worcestershire sauce
– 3/4 pound ground beef
– 2 tbsp tomato paste
– 3/4 cup finely chopped onion
– 1 tsp minced garlic
1 tablespoon yellow mustard
What are the benefits of using an air fryer to make a sloppy joe?
This is a question what are the benefits of using an air fryer to make a sloppy joe?
The answer is that there are many benefits to using an air fryer for cooking. It saves time, money, and energy when compared to other methods. It also allows you to cook your food in a healthier way because it uses less oil and doesn't require any pre-cooking.
Air fryers have become more popular recently because they can cook at lower temperatures than traditional ovens. This means that you don't need to worry about overcooking your food and ruining it with dryness or burning it on the outside while leaving the inside raw . They are also great for cooking delicate foods like fish.
What are the benefits of using an air fryer to bake loaded potatoes?
Air fryers are a popular kitchen appliance that helps to cook food in a healthier way. They use less oil and are more energy-efficient than conventional ovens.
Air fryers also have a few benefits for the health of consumers. They can help reduce the risk of heart disease, cancer, and diabetes caused by cooking with oils.
Potatoes are one of the most popular foods that people cook with an air fryer because they do not require any special ingredients or cooking methods.
Air Fryer Sloppy Joe Loaded Potatoes Recipe
You may also like:
Instant Pot Creamy Asparagus Risotto Recipe
Instant Pot Creamy Mushroom Spaghetti Recipe
Slow Cooker Kielbasa Bites Recipe
Air Fryer Crispy Baby Corn Recipe
Instant Pot Tuscan Tomato Chickpea Soup Recipe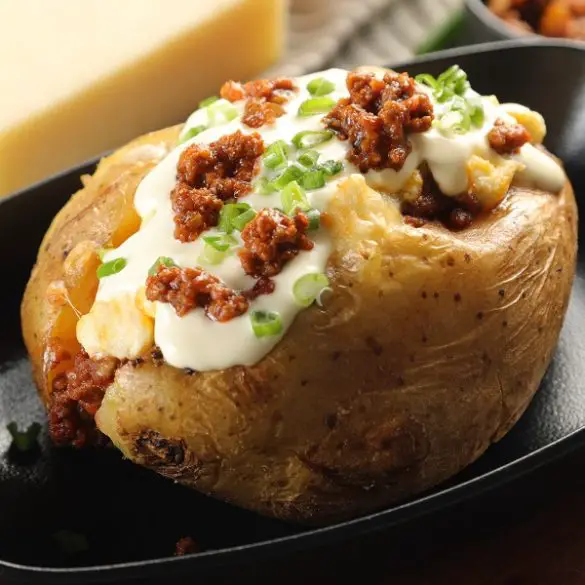 Ingredients
4 Yukon gold potatoes baked in an oven, plus 3 teaspoons olive oil to coat

1 tablespoon olive oil

1 large white onion, peeled and finely diced

3 cloves garlic, peeled and minced

1pound (480 g) of ground beef

6 oz (180 ml) can tomato paste

2 teaspoons brown sugar

1 tablespoon spicy yellow mustard

1 teaspoon chili powder

1/4 cup (60 ml) Worcestershire sauce

1 tablespoon apple cider vinegar

1/4 teaspoon freshly ground black pepper

1 teaspoon sea salt
Instructions
Preheat your air fryer to 350º F (175º C)
Brush potatoes with 1 teaspoon olive oil. Transfer them to the air fryer basket.
Fry for 10 minutes, then brush potatoes with additional 1 teaspoon oil.
Continue cooking for a further 10 minutes. Coat with the remaining 1 teaspoon oil and cook until tender, for about 5-7 minutes.
In a large nonstick skillet, heat the olive oil over medium heat. Add onions and saute, stirring occasionally, until translucent, for about 5 minutes.
Add minced garlic and continue cooking for a further 1 minute.
Stir in the ground beef and cook, stirring and breaking it up, until no more pink color.
Add the remaining ingredients, mix and simmer for at least 10 minutes. Adjust salt and more vinegar, if needed.
Cut baked potatoes almost in half, then press to open. Spoon the filling on top of each potato.
Top with yogurt and sprinkle with chopped green onions.
Serve hot.