Slow cooker beef and okra stew recipe. The family-favorite recipe for a satisfying and flavorful slow cooker beef and okra stew that's perfect for cozy meals on a cold winter's day or to make ahead for busy weeknights.
What is This Beef and Okra Stew Recipe?
This Beef and Okra Stew Recipe is a slow cooker recipe that can be made in less than two hours. It's a simple dish that is full of flavor and makes for an easy weeknight meal.
This beef and okra stew recipe is a perfect example of how to use your slow cooker. You can make it in less than two hours, which means you can have dinner on the table before you know it!
What Are the Health Benefits of This Crock Pot Recipe?
Crockpot recipes are healthy because they are low in calories and fat. They also make your home smell amazing!
The crock pot is a great way to prepare meals that have a lot of flavors and textures, making them easy to cook. It is also a very easy way to prepare meals for the entire family or even for guests.
Love for Slow Cooker Recipes with 7 Incredible Benefits
Slow cooking is a great way to save time and money on your day-to-day cooking. Not only does it take less time, but it also saves you from spending money on expensive ingredients.
Slow cooking is not just for lazy people. It can be a healthy, convenient, and hassle-free alternative to your everyday cooking. Here are 7 incredible benefits of slow cooking:
1) You can save time by preparing your ingredients before work in the morning and then leaving them in the crockpot all day long.
2) Slow cookers are great because they allow you to prepare large quantities of food without worrying about how much you will eat or how much you need to store away for later use.
3) Slow cookers make it easy to preserve food by preserving nutrients and flavors.
4) Slow cookers are a great way to stretch your food budget and save money.
5) Slow cooking allows you to save on electricity by using less power in the process of cooking.
6) Slow cookers offer many health benefits, such as preventing heart disease, cancer, diabetes, and obesity and reducing the risk of Alzheimer's.
7) Slow cooking is a super sustainable way to prepare food, as it does not produce excess waste.
Slow Cooker Beef and Okra Stew Recipe
You may also like:
Air Fryer Sloppy Joe Loaded Potatoes Recipe
Instant Pot Creamy Mushroom Spaghetti Recipe
Instant Pot Creamy Asparagus Risotto Recipe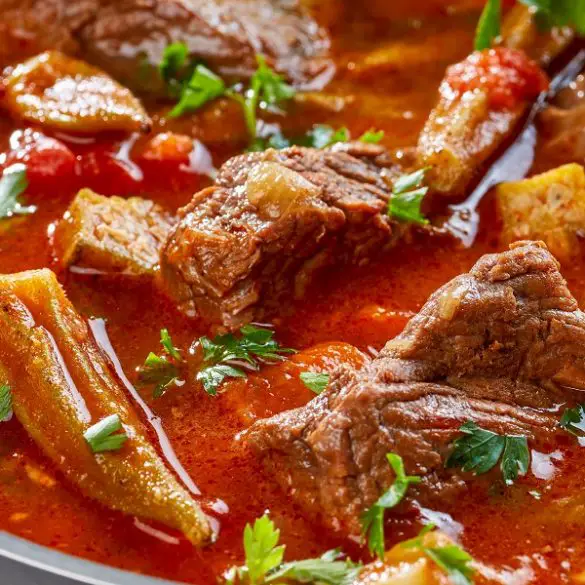 Ingredients
1 pound (480 g) beef stew meat, cubed

2 tablespoons olive oil

1/4 cup chopped yellow onion

14½ oz (435 ml) can diced tomatoes, drained

14½ oz (435 ml) can Italian diced tomatoes, drained

16 oz (480 g) package of mixed vegetables

1 cup sliced okra

2 potatoes, peeled and chopped

1 tablespoon ketchup

salt and freshly ground black pepper, to taste
Instructions
In a large nonstick skillet, heat the olive oil over medium-high heat.
Add cubed beef and onions and cook, stirring occasionally, until evenly browned and onion is tender. Drain the grease.
In a 6-quart (6 L) slow cooker, combine all ingredients, then pour in enough water to cover.
Close the pot and cook on a low-heat setting for 4 hours.