Instant pot Indonesian Soto soup recipe. The result is a delicious and healthy soup loaded with chicken and vegetables. The hearty flavors are perfect for cool weather, and the dish is easy to make with just a few ingredients!
Introduction to Soto Soup
Soto Soup is a recipe that is made in the instant pot. It is a healthy and comforting dish that can be served with rice.
Instant Pot Soto Soup is a perfect meal for those who are busy during the day. It is also good for people who do not like to cook because it takes less than 30 minutes to make. The ingredients include chicken, soy sauce, vegetable oil, ginger, garlic, and turmeric.
Soto is a traditional Indonesian soup from Javanese cuisine. It is usually made with chicken, vegetables, and spices. Soto can also be made with seafood like clams, squid, or fish.
Soto is traditionally served in a bowl and eaten with rice on the side. But instant pot allows you to make it in a single pot for easier cooking.
What is the difference between instant pot Indonesian Soto soup and traditional Indonesian Soto soup?
Indonesian Soto soup is a popular dish that is served in many restaurants and homes. It is a traditional dish that has been around for centuries. The difference between the two types of Indonesian Soto soup is that the traditional one takes more time to cook while the instant pot version cooks itself.
The instant pot version of Indonesian Soto soup uses pressure cooking to cook meat, vegetables, and spices in a broth. The ingredients are placed inside the pot and then it is sealed with an airtight lid. Once it reaches pressure, it cooks for about 20 minutes before you can open it again without burning yourself. It's also important to note that this type of Indonesian Soto soup does not use coconut milk as part of its recipe because it would take too long for the liquid to boil down enough to thicken the soup.
Instant Pot Indonesian Soto Soup Recipe
You may also like:
Slow Cooker Beef and Okra Stew Recipe
Instant Pot Creamy Asparagus Risotto Recipe
Instant Pot Creamy Mushroom Spaghetti Recipe
Slow Cooker Kielbasa Bites Recipe
Air Fryer Crispy Baby Corn Recipe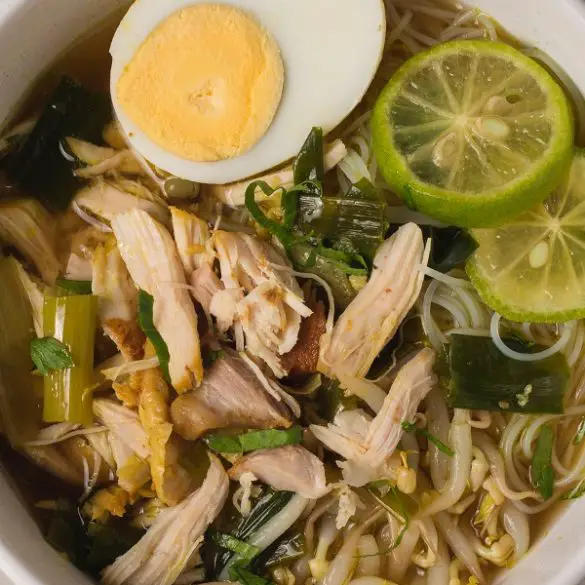 Ingredients
5 garlic cloves, peeled

1 2-inch (5 cm) knob of fresh ginger, peeled and chopped

2 shallots, peeled and chopped

2 tablespoons vegetable oil

2 teaspoons ground turmeric

3-4 pounds (1.4-1.7 kg) of whole chicken

2 bulbs of lemongrass, smashed

5 makrut lime leaves

3 teaspoons sea salt, divided

1 teaspoon granulated sugar

1/2 teaspoon freshly ground black pepper

8 oz (240 g) cellophane noodles, soaked in boiling water for 10 minutes

For Garnish:

4 large hard-cooked eggs, peeled and halved

2 cups shredded cabbage

2 large lin=mes, cut into wedges

dash of sambal oelek

dash of sweet soy sauce
Instructions
In a food processor, combine the garlic, ginger, and shallots. Process until it forms a rough paste.
Heat the vegetable oil in an electric instant pot turned to saute mode. Add the paste and saute for 1 minute, or until aromatic.
Stir in ground turmeric and cook, stirring, for a further 30 seconds.
Turn off the saute mode. Pour in 8 cups (2 L) of water, then add 2 teaspoons of salt, sugar, and black pepper. Using a wooden spatula, scrape up any browned bits from the bottom of the pan.
Place the whole chicken breast-side up in the pressure cooker. Add smashed lemongrass and lime leaves.
Close the pot and lock the lid. Set the machine to cook at high pressure. Set the timer to cook for 20 minutes.
Using the Quick Release method, bring pressure to normal. Carefully unlock and open the lid.
Insert the meat thermometer until it's in the middle of the meat and make sure it reads at least 165 degrees Fahrenheit. If not, cover and cook for a few more minutes.
Using tongs, remove cooked chicken from the cooker and transfer it to a large bowl. Remove the meat from the bones and cut it into bite-sized pieces using two forks.
Discard the lemongrass and lime leaves. Spoon off as much fat from the surface of the soup as possible. Taste and add more seasoning as needed.
Serve with the noodles, egg halves, and shredded cabbage. garnish with green onions, lime wedges, chili paste, and soy sauce.
Enjoy!