Air fryer eggplant meatballs recipe. Air fryer eggplant meatballs are a healthy and tasty plant-based, gluten-free, vegan alternative to traditional meatballs.
What are the benefits of using an air fryer?
Air fryers have a lot of benefits. They are healthier than deep frying, they make crispy food, and they take up less space.
Air fryers are a healthier alternative to deep frying food because they use less oil. Air fryers also make crispy food because of the way the air circulates around it. Air fryers also take up less space which is a major benefit for small kitchens with limited counter space.
How to Make Eggplant Meatballs
Eggplant Meatballs are a perfect vegan meatball recipe. They are gluten-free, dairy-free, and have no added sugar.
They are a healthier alternative to conventional pork or beef meatballs. They are made with a mixture of eggplant and chia seeds, which is both gluten-free and contain more protein than wheat flour.
In order to make these delicious vegan meatballs, you will need an air fryer (or an oven), eggplants, red onion, garlic cloves, crushed red pepper flakes (optional), dried oregano leaves (optional), salt and black pepper. You will also need breadcrumbs or flax meal for the coating and olive oil for the frying process.
Air Fryer Eggplant Meatballs Recipe
You may also like:
Instant Pot Indonesian Soto Soup Recipe
Slow Cooker Beef and Okra Stew Recipe
Air Fryer Sloppy Joe Loaded Potatoes Recipe
Instant Pot Creamy Asparagus Risotto Recipe
Instant Pot Creamy Mushroom Spaghetti Recipe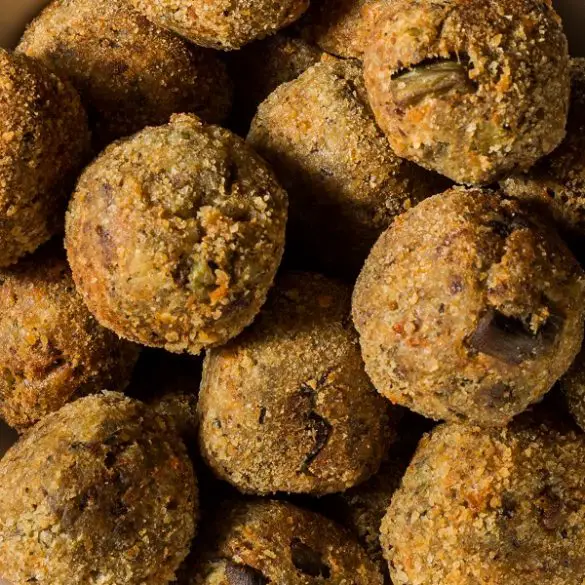 Ingredients
1 pound (480 g) diced eggplants

1 small red onion, peeled and chopped

4-6 cloves garlic, peeled and chopped

1/2 pound (240 g) walnuts

1/3 cup chopped fresh mix of basil, parsley, and oregano

salt and freshly ground black pepper, to taste

1 tablespoon flax meal

1 tablespoon chia seeds

1 cup breadcrumbs
Instructions
Soak chia seeds and flax meal in 6 tablespoons of water. Set aside.
Place walnuts in a food processor. Process until ground finely. Set aside.
Heat 2 teaspoons olive oil in a cast iron pan over medium heat. Add onion and garlic. Saute, stirring occasionally, until softened, for about 5 minutes.
Stir in diced eggplant and continue cooking for a further 8-10 minutes, stirring occasionally and adding water just to make them tender. Remove the eggplant mixture from the heat and transfer it to a large bowl.
Stir in ground walnuts, breadcrumbs, herb mix, salt, black pepper, soaked flax, and chia seeds.  Mix everything with your hands.
Cover with plastic wrap and freeze for 30 minutes.
Remove frozen eggplant mixture from the freezer. Using a tablespoon, scoop the mixture and form it into balls. Spray with some olive oil spray.
Working in batches, place eggplant balls in the air fryer basket, leaving a space between them.
Fry at 375º F (180º C) for 20 minutes, turning them halfway through. Spray with more oil, as needed.
Repeat with remaining meatballs.
Serve hot.