Instant pot kimchi cabbage recipe. Kimchi is a traditional Korean dish that is made of cabbage, radishes, and other vegetables fermented with garlic and red chili peppers.
What is instant pot kimchi cabbage?
This is a Korean dish that is made by frying cabbage in oil and then adding kimchi, salt, and water.
There are some variations to this dish. For example, some people add soy sauce or sugar to the cabbage before it is fried. Some people also fry the cabbage and kimchi together before adding the other ingredients.
It can be served with rice or as a side dish for other Korean dishes such as bulgogi.
The Benefits of Eating Delicious Kimchi Cabbage Soup
Kimchi cabbage soup is a type of soup that is low in carbs and high in healthy fats. Kimchi cabbage soup is a dish that can be eaten at any time of the day, whether it be for breakfast, lunch, or dinner.
The benefits of eating delicious kimchi cabbage soup include:
-It Low in carbs and high in healthy fats.
– Can be eaten at any time of the day.
– Provides an excellent source of probiotics and antioxidants.
– Contains vitamins A, C, E, and K as well as calcium, magnesium, iron, and zinc.
– Kimchi cabbage soup can help with weight loss by suppressing appetite because it's low on calories but still filling thanks to its nutrient density.
Instant Pot Kimchi Cabbage Recipe
You may also like:
Air Fryer Eggplant Meatballs Recipe
Instant Pot Indonesian Soto Soup Recipe
Air Fryer Sloppy Joe Loaded Potatoes Recipe
Slow Cooker Beef and Okra Stew Recipe
Slow Cooker Kielbasa Bites Recipe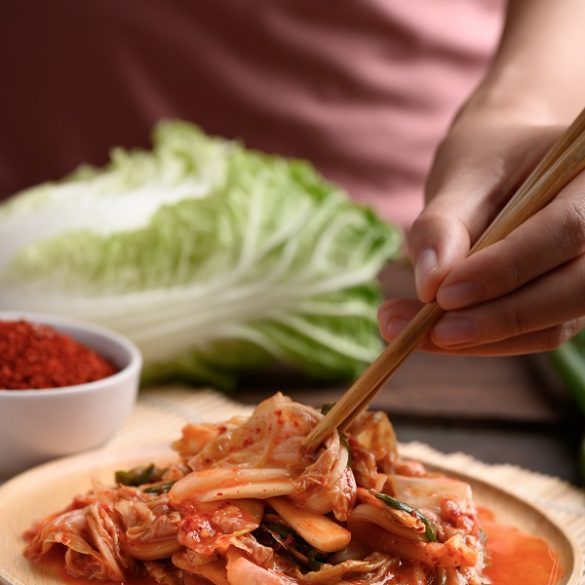 Ingredients
1½ pounds (720 G) napa cabbage, shredded, washed, and drained

1/4 cup kosher salt

3 tablespoons fish sauce

1 tablespoon minced ginger

1/2 tablespoon minced garlic

2-4 tablespoons Korean red pepper flakes (Gojugaru)

8 daikon radishes, cut into thick matchsticks

3-4 scallions, sliced
Instructions
Place shredded cabbage in a large bowl and sprinkle with salt.
Gently massage the salt into shredded cabbage. Add enough water to cover the cabbage. Let this sit for at least 2 hours.
Wash and set aside the cabbage as you prepare the other ingredients.
In a small mixing bowl, combine the fish sauce, ginger, garlic, and red pepper flakes. Mix well.
In a medium mixing bowl, combine the vegetables, spice paste, and drained cabbage. Stir well.
Place the cabbage mixture in a clean glass jar and close it tightly.
Place the jar in an electric instant pot (no water). Set the yogurt setting for 18 hours.
Remove the jar from the pot and leave it at room temperature for at least 24 hours. Stor it in the refrigerator and use it as needed.