If you're on the hunt for the ultimate poached eggs recipe, look no further. The sophisticated Instant Pot takes simplicity to new heights, ensuring perfect eggs and yolks with each endeavour. The benefits of using an Instant Pot go beyond mere ease; let's delve into that.
Fine, I'll give you that there is also some up-time for your pressure cooker to reach pressure, but it will still take less time than what it takes with boiling water. Be sure to have silicone egg cups on hand for these Instant Pot Poached Eggs.
Why is the Instant Pot the Perfect Companion for Poached Eggs?
Traditional poached eggs, a beloved staple at the breakfast table, certainly deliver in taste but can be complex and time-consuming to perfect. The Instant Pot steps in here, transforming the intimidating task into a 'piece of cake'.
Utilising an Instant Pot to poach eggs serves up a nutritious start to your day. You not only get a balanced breakfast but also save precious morning time. Now, how do poached eggs contribute to a healthy diet? Let's find out.
Apart from their expeditious and convenient functions, Instant Pots have paved their way into our kitchens due to their dynamic roles. They aren't just limited to making recipes easier; they also serve as a slow cooker, rice cooker, and pressure cooker, all encapsulated in one single appliance.
Instant Pot Poached Eggs Recipe – The Steps
First and foremost, position the trivet supplied with your Instant Pot at the base of the liner and fill it with 1 cup (or 250 ml) of water. The trivet aids the even distribution of heat. Before placing the eggs in their individual cups, give each one a quick spray with Pam cooking spray or a rub with ghee or butter. This ensures a non-sticky experience later. Once you're set, tenderly crack each egg, depositing them into the cups.
Next, gently arrange the filled silicone cups inside the pot. Fasten the pressure cooker cover and swivel it into its locked position. Rotate the knob to 'Sealing', thus ensuring a firm seal. When it's time to cook your eggs to exact perfection, press the 'Steam' button. The time you select depends on your preference for egg doneness. As a guide, 3-5 minutes will give you a soft runny yolk whereas a firm yolk needs about 7-9 minutes.
Once the timer sounds, carefully dissipate the pressure built up in the pot. Only after this dual check should you unlock and lift the lid. Following that, cautiously retrieve the silicone cups from the pot. Remember, safety always comes first when dealing with pressure cookers.
The final step requires a bit of effort. With a large spoon, gently crack the seal between the egg and silicone cup. Remove your perfectly cooked poached eggs, plate up, and enjoy immediately. Poached eggs are best enjoyed fresh, after all!
Instant Pot Poached Eggs Recipe
You may also like:
Instant Pot Kimchi Cabbage Recipe
Air Fryer Eggplant Meatballs Recipe
Slow Cooker Beef and Okra Stew Recipe
Instant Pot Indonesian Soto Soup Recipe
Air Fryer Sloppy Joe Loaded Potatoes Recipe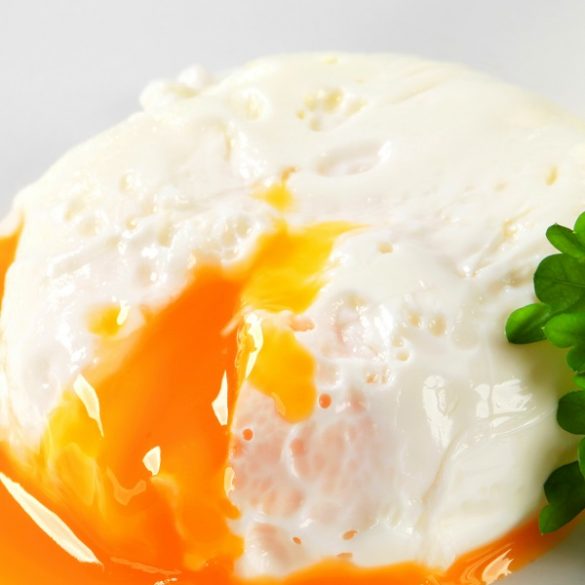 Ingredients
4 large eggs

1 cup (250 ml) water
Instructions
Arrange the trivet in the instant pot.= and pour in 1 cup (250 ml) of water.
Spray silicone cups with cooking spray, then crack eggs and pour them into greased cups.
Carefully place the silicone cups into the pot. Close the cooker and lock the lid.
Press the "Steam" button and adjust the time.
Using the Quick Release method, bring pressure to normal. Carefully unlock and open the lid.
Carefully remove the cups from the pot. Using a large spoon, break the seal between the eggs and the cup.
Serve hot.