Slow cooker apricot jam. Apricot jam cooked in the slow cooker. This is a beautiful apricot jam with an intense, fresh flavor.
What are the Benefits of Making Apricot Jam in a Slow Cooker?
Slow cookers are usually used to make soups, stews and other dishes that require a long cooking time. But in this article, we will be discussing the benefits of making apricot jam in a slow cooker.
Slow cookers can help you save energy and time. They also make it easy to keep an eye on the cooking process, which is not always possible with traditional stovetop methods.
There are many benefits of using a slow cooker for jam-making, but the most important one is that it doesn't require much sugar.
What is the difference between jams and jellies?
Jams are made from crushed fruit, sugar, and pectin. Jellies are made from crushed fruit, sugar, and gelatin.
What are the benefits of apricot jam?
Apricot jam is a delicious spread that can be eaten on toast or used in recipes.
Apricot jam is made with apricots, sugar and lemon juice. It has a sweet flavor and thick consistency.
Apricot jam is healthier than other jams because it has less sugar, no artificial colors or flavors, and no preservatives.
It can be used in recipes like apricot upside-down cake, tartlets, croissants and more!
How do you know when the jam is done cooking?
In order to know when the jam is done cooking, you will need to follow these steps:
– Place a clean spoon in the pot.
– If it comes out clean, then the jam has finished cooking.
– If there is still some jam on the spoon, then it needs more time.
Slow Cooker Apricot Jam
You may also like: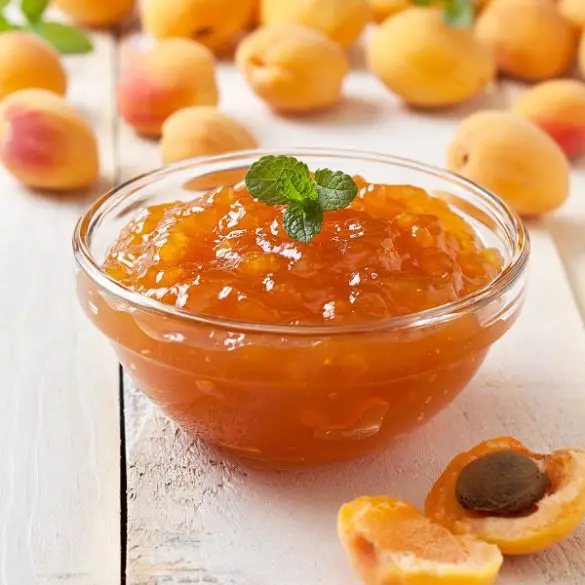 Ingredients
7 pounds (3.5 kg) ripe apricots, pitted and quartered

5 pounds (2.5 kg) of sugar

zest of 1 large lemon

freshly squeezed juice of 1 large lemon

50 g pack Jamsetta (optional)
Instructions
In a 6-quart (6 L) slow cooker, combine apricots, sugar, lemon zest, and juice.
Close the pot and cook on a high-heat setting for 3 hours, stirring occasionally.
Open the lid, then switch the heat to low and cook for a further 1 hour, stirring occasionally.
Using an immersion blender, blend the jam until you reach desired consistency.
Stir in Jamsetta, to make the jam thicker. Enjoy!