Instant pot peach jam. Tired of your old-fashioned, inconsistent peachy jam recipe? Try this easy, fresh, and fabulous instant pot peach jam recipe!
What's the Difference between Jam and Preserves?
Jam is a spreadable fruit preserve made with sugar, fruit, and pectin. It is usually chunky and has a soft texture. Preserves are different from jams because they are not made with added sugar or pectin. They are usually smoother in texture and much sweeter than jams.
The difference between jam and preserves is that preserves do not contain any added sugar or pectin, while jams do. Jam is also chunkier in consistency than preserves and contains more of the original fruit pieces than preserves do.
The Benefits of Making Homemade Preserves & Jams
Preserving fruits and vegetables is not only a great way to save money but also a way to provide healthy snacks for your family.
Many people are intimidated by the idea of canning, but it is actually quite easy. There are many recipes available online that will walk you through the entire process step-by-step.
Making your own jams, jellies, and preserves is another easy way to preserve fruits and vegetables. The best part about making these homemade preserves is that you can tailor them to suit your taste buds!
What you will need to make peach jam in an instant pot
Peach jam is a popular fruit preserve that can be made by cooking peaches with sugar and pectin. You will need to have an instant pot or pressure cooker to make peach jam in an instant pot, but you will not need any other ingredients.
In order to make peach jam in an instant pot, you will need:
-A medium-sized mixing bowl
-A blender
-An instant pot or pressure cooker
-6½ cups of chopped peaches
-1/2 cup of honey
-1/4 cup (60 ml) of lemon juice
-1 tablespoon of vanilla extract
Other Delicious Peach Recipes You Should Try!
The following are some of the other delicious peach recipes that you should try.
1. Peach and Blackberry Galette
2. Peach and Basil Panna Cotta
Instant Pot Peach Jam
You may also like: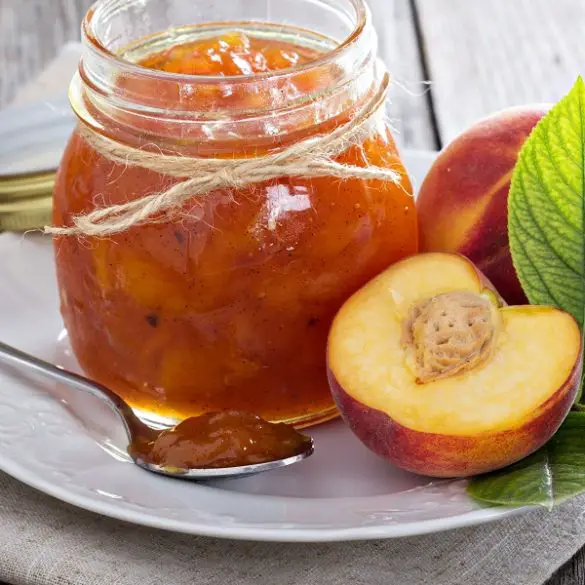 Ingredients
2½ pounds (1.44 kg) of fresh ripe peaches, pitted and chopped

1/2 cup (125 ml) honey

freshly squeezed juice of 1 lemon

1 tablespoon vanilla extract
Instructions
In an electric instant pot, combine peaches, lemon juice, and honey. Stir well.
Close the pot and lock the lid.
Set the machine to cook to high pressure. Set the timer to cook for 1 minute.
Using the natural Release method, bring pressure to normal. carefully unlock and open the lid.
Switch the cooker to saute mode. Cook, uncovered, stirring occasionally, for about 15 minutes, or until most of the liquid has evaporated and the peach jam is thickened.
Turn off the instant pot. Mix in the vanilla extract. Using an immersion blender, blend until a smoother consistency.
Store it in a jar and refrigerate. Enjoy!