Instant pot stuffed cabbage rolls. Delicious and easy stuffed cabbage rolls recipe. A complete meal in one pot. This hearty dish is packed with flavor and will pass the taste test with all your family members!
Stuffed cabbage rolls are a dish that is popular in Eastern Europe, Russia, and Scandinavia. The dish has been eaten for many centuries – maybe even as long as two millennia. It's one of the most popular dishes in Russia along with Borscht.
Starches such as potatoes and rice were often used with cabbage for a filling. And the meat was not used very often in the early versions of this dish. But over time, meats like beef and pork became more popular when cooking the dish.
Today, the ingredients can vary greatly from region to region depending on what is available. But some people still use potatoes and rice in their version of this dish while others use noodles instead.
What Are Instant Pot Stuffed Cabbage Rolls?
Stuffed Cabbage Rolls are a simple and delicious way to make stuffed cabbage rolls. They are made by cooking cabbage leaves, rice, and ground beef in the Instant Pot.
The rice is cooked in chicken broth, which makes it more flavorful than if you were to use water. The cabbage leaves are then filled with the rice mixture and then rolled up before being put into the Instant Pot. Once they are finished cooking, they can be served with tomato sauce or sour cream.
What to Serve With Stuffed Cabbage Rolls
There are a variety of things to serve with stuffed cabbage rolls. Here are some suggestions:
Instant Pot Stuffed Cabbage Rolls
You may also like:
Instant Pot Sauerkraut Soup Recipe
Slow Cooker Lentil and Vegetable Stew
Slow Cooker Italian Ribollita Soup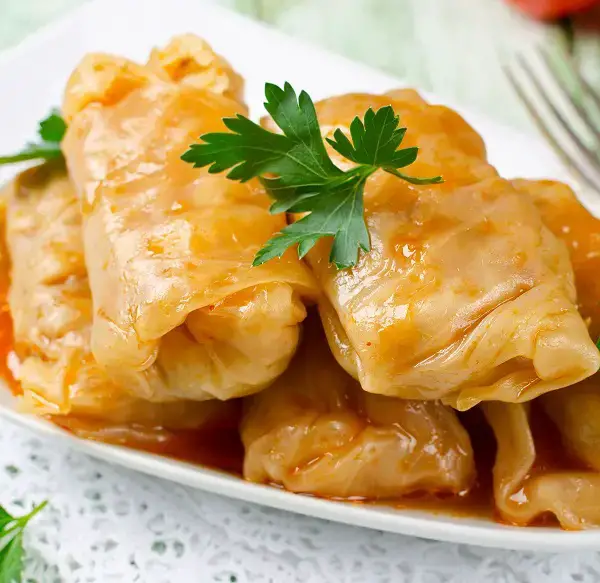 Ingredients
1½ cups (375 ml) of water

1 head of green cabbage, washed and some bottom parts cut

1½ cups cooked rice

1/4 cup finely chopped fresh parsley

1½ teaspoons salt

freshly ground black pepper, to taste

1 teaspoon garlic powder

1 teaspoon onion powder

1/2 teaspoon ground cinnamon

1 tablespoon dried oregano

1 medium egg, beaten

1 pound (480 g) of ground meat (beef, pork, chicken. or lamb)

1½ cups (375 ml) tomato passata (Italian pureed tomatoes)

2 teaspoons dried oregano
Instructions
Pour the water (1½ cups) into an electric instant pot, then place the steamer rack. Place the cabbage on the steamer rack. Close the pot and lock the lid. Set the machine to cook to high pressure. Set the timer to cook for 0 minutes. Meanwhile, in a mixing bowl, combine the rice, parsley, salt, black pepper, garlic powder, onion powder, cinnamon,, oregano, egg, and ground (minced) meat. Stir well. When the cabbage is ready, open the cooker, using a Quick Release method. carefully unlock and open the lid. Remove cooked cabbage from the instant pot and transfer it to a cutting board. Let it cool slightly. Remove the cabbage leaves, then place about 1 scoop of the meat mixture onto the leaf and roll it two times. Continue with the remaining leaves. In the instant pot, combine 2 cups (500 ml) of water, tomato passata, and oregano. Mix well. Place the cabbage rolls in the liquid. Close the pot and lock the lid. Set the machine to cook to high pressure. Set the timer to cook for 7 minutes. Using the Quick Release method, bring pressure to normal. Carefully unlock and open the lid. Remove cooked stuffed cabbage rolls from the cooker and transfer them to a serving plate. Serve hot.