Slow Cooker Italian ribollita soup. Ribollita is a traditional Tuscan soup made with bread, beans, and vegetables. This hearty slow cooker ribollita soup recipe is perfect for a cold winter day.
The dish is most popular in the regions of Tuscany and Liguria but can be found throughout Italy.
This soup may be slow cooking in a crock pot all day, but it's worth the wait.
This soup is traditionally made with vegetables such as cannellini beans, carrots, celery root, and cabbage. However, there are no rules to this dish and many people like to use their own variation of this recipe by adding potatoes or zucchini.
What Does This Soup Taste Like?
Ribollita is a traditional Italian dish that is made from leftovers. It's most commonly made with bread, beans, and vegetables.
The soup can also have meat in it like sausage or bacon. The ingredients are typically cooked together for a long time to create a hearty stew-like meal.
What should be added to ribollita soup?
The most popular version of ribollita soup includes cabbage, carrots, celery, garlic, onion, olive oil, and vegetable stock. It also includes some type of cured meat (such as bacon or pancetta) and white beans.
What should be avoided in this soup?
In order to avoid the following in ribollita soup:
– Vegetables that are not in season
– Too much salt
– Too much oil
– Too little water
Slow Cooker Italian Ribollita Soup
You may also like:
Slow Cooker Creamy Pumpkin Soup Recipe
Air Fryer Caramelized Onions Recipe
Slow Cooker Chicken Sausage Gumbo Soup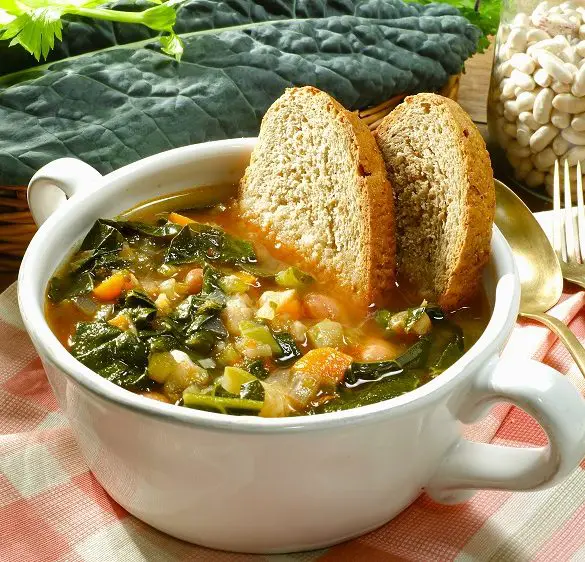 Ingredients
1pound (480 g) dried cannellini beans, soaked overnight, liquid reserved

2 tablespoons extra-virgin olive oil

1 large sweet onion, peeled and diced

kosher salt to taste

2 large carrots, peeled and diced

3 celery stalks, diced

1 head garlic, cloves separated, peeled, and thinly sliced

28 oz (840 ml) can tomatoes, drained

Bouquet garni

1 tablespoon crushed red pepper flakes

1 pound (480 g) Tuscan kale, leaves torn into small pieces, stems finely minced

8 slices toasted white bread
Instructions
Pour the soaked beans along with their liquid into a 6-quart (6 L) slow cooker. Add water to cover the beans by 2 inches (5 cm).
Cover the pot and cook on a high-heat setting for 4 hours.
Heat the olive oil in a large saute pan over medium heat. Add onion, season with salt, and cook for 5 minutes, stirring occasionally, until softened.
Add the carrots, celery, and garlic. Continue cooking and stirring occasionally, for a further 5 minutes.
Remove vegetables from the pan and transfer them to the slow cooker. Add tomatoes, crushing them in your hand, then add Bouquet Garni, 1 tablespoon salt, and 1/2 tablespoon of red pepper flakes. Stir well.
Cover the pot and cook on a low-heat setting for 3 hours.
Turn off the slow cooker and open the lid. Discard Bouquet Garni, then add kale, sliced bread, and remaining red pepper flakes. Stir the soup well and season with more salt to taste.
Serve hot.