Slow cooker creamy pumpkin soup recipe. Pumpkin season is here and this is a great recipe for all pumpkin lovers. Generally, this recipe takes about 10-20 minutes to prepare but you can also make it in your slow cooker!
The Best Slow Cooker Creamy Pumpkin Soup Recipe for Fall
Pumpkin soup is a delicious and hearty dish that is perfect for the fall season. It's also a great dish to make when you're feeling under the weather because it has some immune-boosting properties. This pumpkin soup recipe is packed with flavor, but not too heavy.
The Benefits of Pumpkin Soup Recipe
The pumpkin soup recipe is a perfect dish to make during the winter months. It's warm and comforting, and the ingredients are easy to find. A slow cooker is one of the best ways to make a healthy pumpkin soup recipe because it doesn't require you to stand over it to stir. Plus, you can use your time cooking dinner for other dishes or even just relaxing!
What are the benefits of adding pumpkin to this soup recipe?
Adding pumpkin to this soup recipe, will enrich the spices and add a depth of flavor.
Pumpkins are a seasonal vegetable that is in season in the autumn. They are rich in vitamins A and C, antioxidants, and potassium.
How is pumpkin soup traditionally served?
In the United States, pumpkin soup is traditionally served on Thanksgiving Day. However, in many other parts of the world, it's eaten as soup or a dessert.
Slow Cooker Creamy Pumpkin Soup Recipe
You may also like:
Air Fryer Caramelized Onions Recipe
Slow Cooker Chicken Sausage Gumbo Soup
Slow Cooker White Bean and Pasta Soup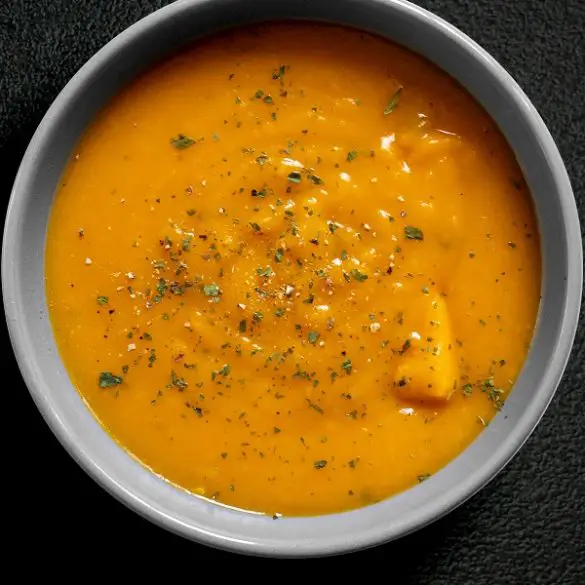 Ingredients
1 small pumpkin, halved, seeds removed, and chunked

1 small yellow onion, peeled and roughly chopped

2 medium Russet potatoes, peeled and chunked

4 cups (1 L) vegetable broth

1/2 cup (125 ml) heavy cream

1 teaspoon kosher salt

1/2 teaspoon freshly ground black pepper
Instructions
In a 6-quart (6 l) slow cooker, combine all ingredients, except heavy cream. Mix well.
Cover the pot and cook on a low-heat setting for 7-8 hours, or on high for 4 hours.
Turn off the cooker and open the lid.
Using an immersion blender, blend the soup until smooth.
Slow stir in the heavy cream. Adjust seasoning if needed.
Serve hot.