Air fryer caramelized onions recipe. Caramelized onions are a versatile ingredient in any kitchen. This Air fryer caramelized onion recipe is easy to make using your air fryer and will add a sweet flavor to your dish.
Caramelizing Onion with an Air Fryer is a Dream Come True for Lazy Cooks
Cooking with an air fryer is one of the most convenient ways to cook. It is also one of the healthier ways to cook since it doesn't use as much oil.
Caramelizing onions in an air fryer is easy and quick, but there are a few things you should know before you start cooking them in this way. The first thing to know is that they take a lot less time than other methods of cooking onions, so make sure you have enough time before starting this process.
You should also be aware that the flavor and texture of your onion will be different than if it was cooked by traditional means.
Why Should You Air Fry Your Caramelized Onions?
Air frying is a cooking technique that uses hot air to cook food. Caramelized onions are usually cooked on the stovetop or in the oven. However, you can also use an air fryer to cook them.
The main benefit of using an air fryer is that it cooks food faster than other methods and with less oil. This means that your caramelized onions will be ready in just 15 minutes!
Health Benefits of Air-Frying Caramelized Onions
Caramelized onions can be a healthy alternative to cooking them in oil. The high heat will make the onions crispy and crunchy, while the natural sugars in the onion get caramelized.
This method is not only healthier, but it also takes less time than traditional methods of cooking.
Air Fryer Caramelized Onions Recipe
You may also like:
Slow Cooker Chicken Sausage Gumbo Soup
Slow Cooker Shrimp and Crab Chowder
Slow Cooker Yakisoba Noodles Recipe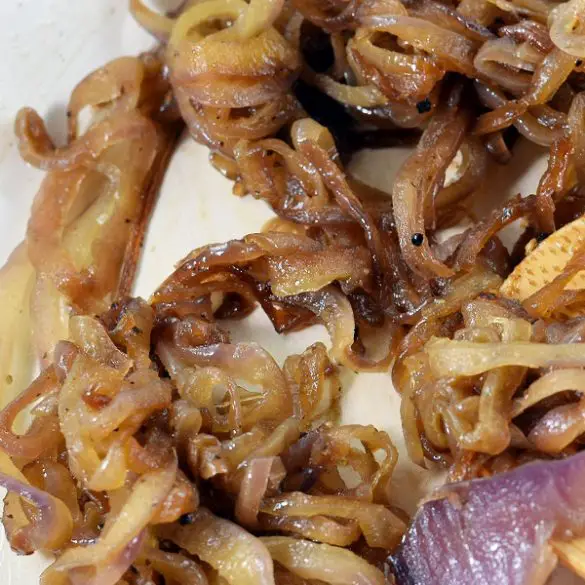 Ingredients
1/2 pound (240 g) yellow onions, peeled, halved, and sliced into thin half-moons

1 tablespoon avocado oil

salt, to taste
Instructions
Place sliced onions in a bowl, then drizzle with avocado oil and sprinkle with salt.
Spread oiled onions in the air fryer basket.
Fry at 350º F (175º C) for 12 minutes, stirring onions after 10 minutes of cooking.
To make golden brown onions, next turn the air fryer heat down to 300º F (150º F). Fry for a further 5-10 minutes.
Enjoy!