Slow cooker white bean and pasta soup. Looking for a hearty soup that's healthy, hearty, and easy to make? This White Bean and Pasta Soup is the perfect winter meal.
Slow-Cooked White Beans & Pasta – The Best Of Two Worlds
This is a recipe that I found on the internet, but I changed it to make it my own. It's really good and I think you should try it!
I had never cooked beans before, so I was looking for recipes to try. After reading a few different recipes, this one looked the best to me. It is a slow cooker recipe with white beans and pasta. You can use any kind of pasta you want, but this recipe calls for shells.
What is White Bean and Pasta Soup?
White bean and pasta soup is a hearty soup that is perfect for cold winter days. It's also an easy slow cooker recipe that you can make in your crockpot.
This soup is made with white beans, pasta, chicken stock (vegetable stock), celery, garlic, Italian seasoning, and onion. You can also add veggies such as carrots or celery to make it more flavorful. One of the best things about this recipe is that it's vegetarian and gluten-free!
Toasted Garlic And Rosemary Croutons – The Perfect Addition To Any Soup!
Croutons are a great way to add a crunchy texture to a dish that is otherwise soft and mushy. The best thing about them is that they can be made in many different ways and can be used with a variety of dishes.
They are usually prepared by cutting the bread into cubes, tossing them in olive oil, and then roasting them for about 10 minutes. They can also be seasoned with various spices or herbs before cooking.
Slow Cooker White Bean and Pasta Soup
You may also like:
Slow Cooker Yakisoba Noodles Recipe
Instant Pot Ricotta Lemon Pasta Recipe
Instant Pot Buckwheat with Mushrooms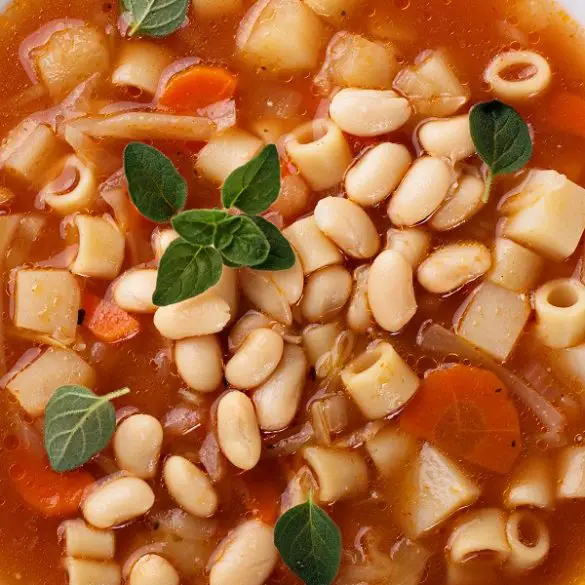 Ingredients
2 cans (15 oz (450 ml) each)) Great Northern beans, rinsed and drained

8 cups (2 L) chicken stock (substitute for a vegetable stock for vegans)

1 can (8 oz (240 ml)) tomato paste

1 large yellow onion, peeled and chopped

1/2 cup sliced carrots

1/2 cup sliced celery

1/2 cup chopped parsley

2 cloves garlic, peeled and chopped

1 tablespoon dried Italian seasoning

2 cups broken Italian pasta (use any)

salt and freshly ground black pepper, to taste
Instructions
In a 6-quart (6 l) slow cooker, combine all ingredients, except pasta, salt, and black pepper.
Mix well. Close the pot and cook on a low heat setting for 6-8 hours, adding pasta during the last 15 minutes.
Turn off the cooker and open the pot. Season the soup with salt and black pepper to taste.
Serve hot with garlic rosemary croutons, if desired. Enjoy!