Instant pot Italian ribollita soup recipe. A hearty vegan soup made with beans and vegetables, perfect for the fall season.
In this recipe, you'll make Instant Pot Ribollita soup. Ribollita is usually a winter dish, but it's perfect for those cold days in fall and spring. The ingredients are simple: tomatoes, garlic, onion, cabbage, carrots, celery, and potatoes.
There is no need for salt and pepper since canned tomatoes have enough flavor. There are many variations of this soup – some include beans or beef stock; I like to keep mine vegetarian with canned or boxed vegetable broth instead of chicken broth or beef stock. You can top your soup with bread croutons when served if desired.
Interesting Facts about Ribollita
Ribollita is a Tuscan soup that is usually made with vegetables and beans. It has a thick consistency and can be served as a soup or as a filling for sandwiches.
The word "ribollita" literally means "reboiled". The word comes from the verb "ribollire", which means to boil again. This name refers to the fact that this soup is made by boiling vegetables, beans, and broth, then adding pasta or rice, and finally simmering it all together until it becomes thick.
The ingredients of ribollita are typically based on what was leftover in the kitchen after lunchtime on Monday. This dish was traditionally prepared by housewives who would save leftovers from Sunday's dinner to make ribollita for their families to eat during the weekdays when there was no time for cooking fresh food.
Hearty Soups for the Cold Months Ahead
Winter is coming and you know what that means: time to get cozy with some hearty soups!
It's a perfect time to break out of the soup pot and cook up some delicious vegan soups for the cold months ahead.
Some of my favorite winter soup recipes are below:
– 3 Ingredient Vegan Creamy Tomato Soup
– Vegan Lentil Soup with Roasted Garlic
– Vegan Curried Butternut Squash Soup
Instant Pot Italian Ribollita Soup recipe
You may also like;
Slow Cooker Creamy Pumpkin Soup Recipe
Air Fryer Caramelized Onions Recipe
Slow Cooker Shrimp and Crab Chowder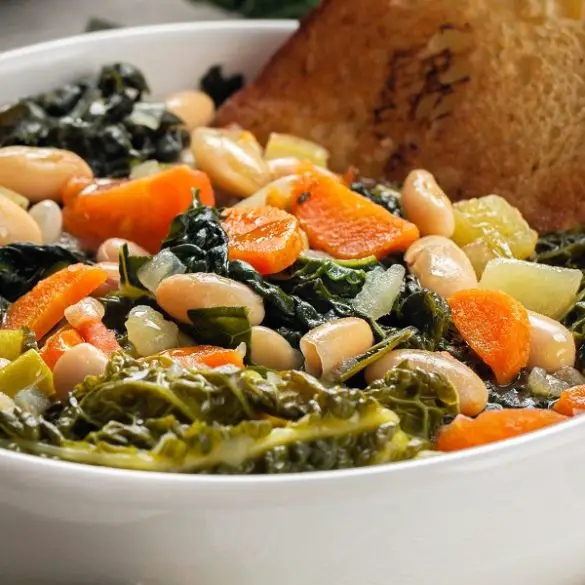 Ingredients
8 oz (240 g) can cannellini beans, undrained

5 oz (150 g) toasted Crostini bread

5 oz (150 g) Savoy cabbage, chopped

3 oz (90 g) Cavolo Nero (a loose-leafed cabbage from Tuscany, Italy), use curly kale as a substitute

1 tablespoon tomato paste

1 large yellow onion, peeled and chopped

1 carrot, peeled and sliced

1/2 celery stalk, chopped

fresh rosemary leaves

2 cups (500 ml) vegetable broth

2 tablespoons extra-virgin olive oil

salt and freshly ground black pepper, to taste
Instructions
In an electric instant pot, combine all ingredients, except oil, beans, and bread. Mix well.
Close the pot and lock the lid. Set the machine to cook to high pressure. Set the timer to cook for 20 minutes.
Meanwhile, blend until smooth 1/3 of the canned beans with a couple of tablespoons of their juices.
Using the Quick Release method, bring pressure to normal. carefully unlock and open the lid. Stir in the blended beans along with the remaining beans. Stir well.
Switch the cooker to saute mode. Cook, stirring occasionally, for a further 5-6 minutes.
Place crostini bread on the bottom of the soup bowl, then pour the soup over the bread. Allow it to set for 5 minutes, then drizzle with olive oil. Enjoy!