Slow cooker lentil and vegetable stew. A hearty, healthy, and easy to make stew that is perfect for cold winter days.
Lentil and Vegetable Stew is a light and healthy recipe that's perfect for the fall-winter season. It's easy to prepare, so you can have some on hand when you don't have time to cook and need a quick warm meal.
This dish is vegetarian, full of protein, and all the ingredients are inexpensive! If you're looking for an easy weeknight meal that's filling without being too heavy, this recipe is perfect for you.
Lentils are an Excellent Source of Protein for Vegans
Lentils are a plant-based protein source that is a great alternative to meat. They are high in fiber, iron, and folate.
Lentils are an excellent source of protein for vegans. They have a high protein content and are rich in fiber, iron, and folate.
There are many vegan sources of protein out there but lentils are one of the best options because they're easy to prepare and cook quickly
Why You Should Make This Slow Cooker Lentil Stew
This hearty, healthy, and comforting soup is perfect for a cold day. It's made with a mix of fresh vegetables, lentils, and herbs. The perfect winter meal.
I hope you enjoy this recipe!
Slow Cooker Lentil and Vegetable Stew
You may also like:
Slow Cooker Chicken Biryani Recipe
Slow Cooker Italian Ribollita Soup
Instant Pot Italian Ribollita Soup Recipe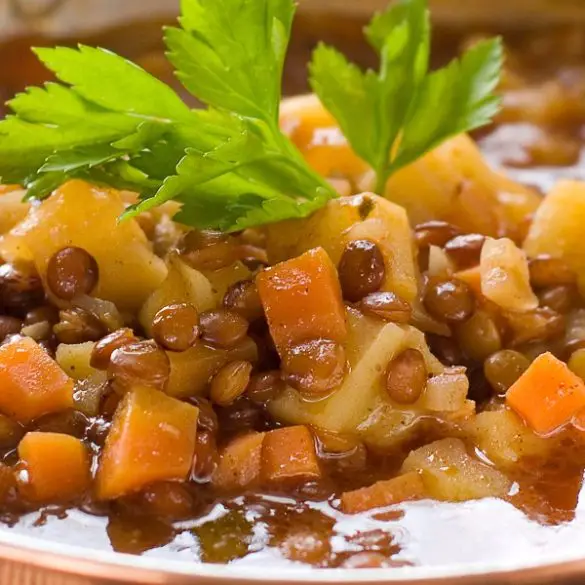 Ingredients
2 cups (500 ml) vegetable broth

8 small potatoes, peeled and cubed

1/2 pound (240 g) chopped carrots

3 cups sliced yellow onions

1/2 cup dried lentils

2 jalapeno pepper, mashed into a paste

1 tablespoon minced ginger

1 stick cinnamon

10 cloves garlic, peeled

6 whole cloves

6 crushed cardamom pods

1 teaspoon ground turmeric

1/2 teaspoon crushed dried mint leaves

salt, to taste
Instructions
In a 6-quart (6 L0 slow cooker, combine all ingredients, except salt. Mix well.
Cover the pot and cook on a low-heat setting for 6-8 hours.
Turn off the cooker and open the lid. Season the stew with salt.
Serve hot.