Instant pot sauerkraut soup recipe. This an easy-to-make soup recipe for the Instant Pot and other electric pressure cookers that is flavorful and healthy with the addition of sauerkraut.
What is Sauerkraut Soup?
Instant Pot Sauerkraut Soup is a great dish to make on a cold winter day. It is also very easy to make and can be done in about 30 minutes.
This soup is made with sauerkraut, potatoes, smoked sausages, and potatoes. It has a tangy flavor that will go well with any meal.
This soup is not only healthy, but it is also delicious!
Benefits of Eating Sauerkraut
Sauerkraut is a fermented cabbage dish that is popular in German cuisine. It is made by shredding cabbage and adding salt to it. The shredded cabbage then undergoes lactic acid fermentation, which helps the cabbage to preserve.
The benefits of eating sauerkraut are numerous. Sauerkraut is a probiotic food that can help with digestion and promote healthy gut flora. It also contains high levels of vitamin C, which helps to keep the immune system strong and ward off diseases like the common cold or flu.
Sauerkraut has been shown to reduce the risk for certain cancers such as colon cancer, breast cancer, prostate cancer, and stomach cancer because it contains phytonutrients called indoles that have anti-cancer properties.
It's also rich in antioxidants, which have been shown to reduce the risk or progression of cardiovascular diseases. Fiber is found in sauerkraut and helps regulate bowel movements and keep the intestines moving smoothly. Specifically, insoluble fiber acts as a prebiotic, while soluble fiber binds with toxins and releases them into the body.
Instant Pot Sauerkraut Soup Recipe
You may also like:
Slow Cooker Lentil and Vegetable Stew
Slow Cooker Chicken Biryani Recipe
Instant Pot Italian Ribollita Soup Recipe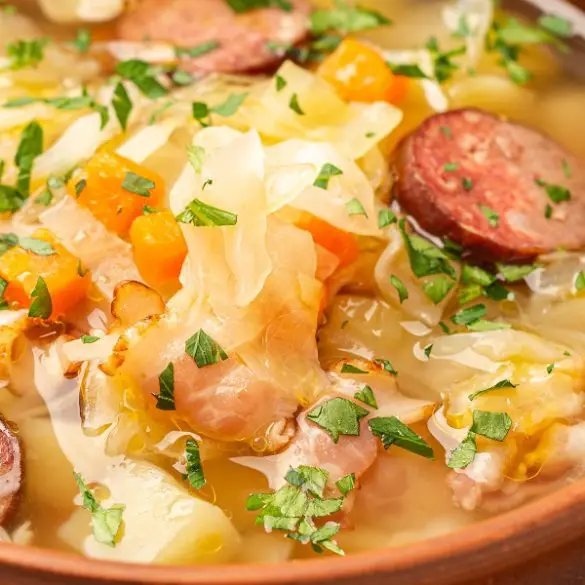 Ingredients
2/3 pound (360 g) smoked sausages, sliced

1 large yellow onion, peeled and chopped

2 ribs celery, sliced

1 large carrot, peeled and finely chopped

1 tablespoon minced garlic

1/2 teaspoon freshly ground black pepper

2 (14½ oz (435 ml)) cans sauerkraut, drained

1 pound (480 g) potatoes, peeled and cubed

5 cups (1.25 L) chicken broth

6 liquid oz hard apple cider

3 sprigs of fresh thyme, leaves only
Instructions
In an eclectic instant pot turned to saute mode, cook sausages until caramelized, for about 4 minutes.
Add chopped onion, celery, garlic, thyme, and black pepper. Cook, stirring occasionally, for a further 3 minutes.
Cancel saute mode.
Stir in the remaining ingredients.
Close the pot and lock the lid. Set the machine to cook to high pressure. set the timer to cook for 8 minutes.
Using the Quick Release method, bring pressure to normal. Carefully unlock and open the lid.
Stir the soup well before serving.
Ladle it to soup bowlls. Serve hot.