Instant pot shrimp fajitas. These unbelievably easy instant pot shrimp fajitas are a healthy, hearty, and quick dinner solution. Throw in some veggies and other ingredients in the Instant Pot for an easy weeknight meal.
Getting Started with the Recipe
Cooking shrimp fajitas in a pressure cooker is a great way to save time and energy. It also gives you the opportunity to make seafood fajitas by adding fish, clams, or other types of seafood.
The process of cooking shrimp fajitas in a pressure cooker is very simple. You will need to add olive oil and shrimp to the pot. Cook the shrimp for about five minutes on high heat with the lid on.
Add peppers, onions, and any other vegetables that you want to add at this point. Cook for another five minutes with the lid on again. Then you can remove the lid and cook until they are tender but still crisp-tender (about two minutes). Serve with corn tortillas or flour tortillas as desired.
How to Make the Best Fiesta Rice Ever!
This recipe is for the best shrimp fajita dish ever!
This is a great recipe to make if you're looking to spice up your dinner routine. It's full of flavor and easy to prepare, so you'll have time to enjoy your meal instead of slaving away in the kitchen.
The ingredients are simple, but they pack a punch when they're combined together. The flavors combine to create something truly amazing that will have you coming back for more!
Shrimp Fajita Ingredient Guide
A shrimp fajita is a dish that can be made with a variety of different ingredients. I'll explore some of the most common ingredients and share easy recipes for preparing them.
Ingredients:
-Shrimps
-Bell peppers
-Onion
-Green onions
-Lime juice
-Cilantro leaves
-Tomatoes
Instant Pot Shrimp Fajitas
You may also like:
Slow Cooker Lasagna-Stuffed Peppers
Slow Cooker Sticky-Toffee Pudding
Slow Cooker Lentil-Stuffed Cabbage Rolls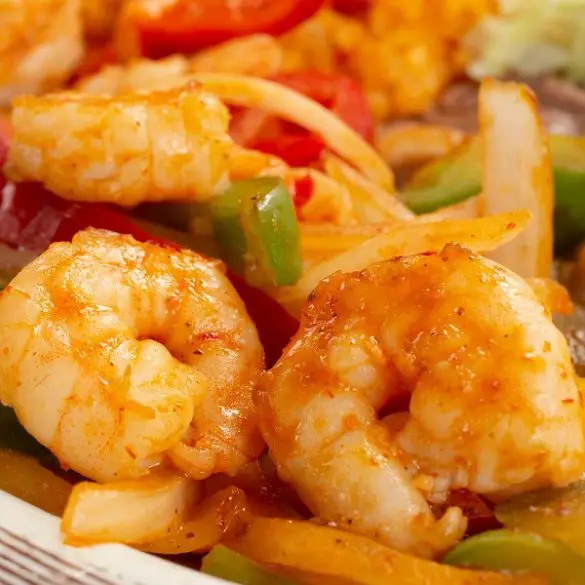 Ingredients
2 pounds (960 g) of raw shrimp

1 large yellow onion, peeled and diced

1 red bell pepper, seeded and sliced

1 yellow bell pepper, seeded and sliced

1 green bell pepper, seeded and sliced

3 tablespoons fajita seasoning

1/4 cup (60 ml) water
Instructions
In an electric instant pot, combine all ingredients. Mix well, making sure shrimp and vegetables are well coated in seasoning.
Cover the pot and lock the lid.
Set the machine to cook to low pressure. Set the timer to cook for o minutes.
Using the Quick Release method, bring pressure to normal.
Carefully unlock and open the lid.
Remove cooked shrimp and vegetables from the cooker and transfer them to a serving plate.
Serve hot.